Prepare mode
allows you to review and edit the Lesson's content, questions, and model answers before releasing it to your students
.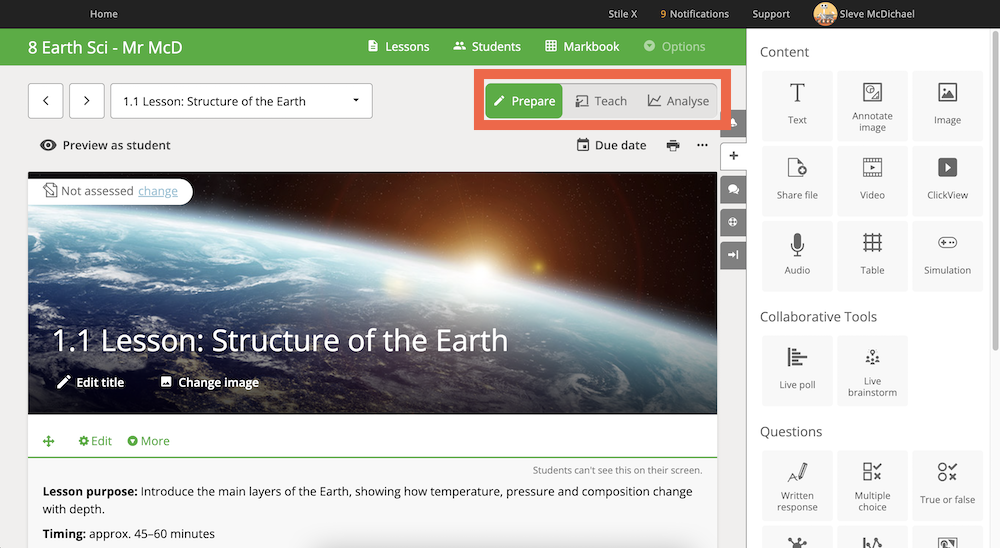 When viewing a Lesson, the green view mode toggle at the top of the page will default to Prepare mode.
Prepare mode enables the following activities:
Preview as a student
The student preview allows you to see your Lesson exactly as it will be displayed to your students. It hides all Teacher tips and Edit/Menu options.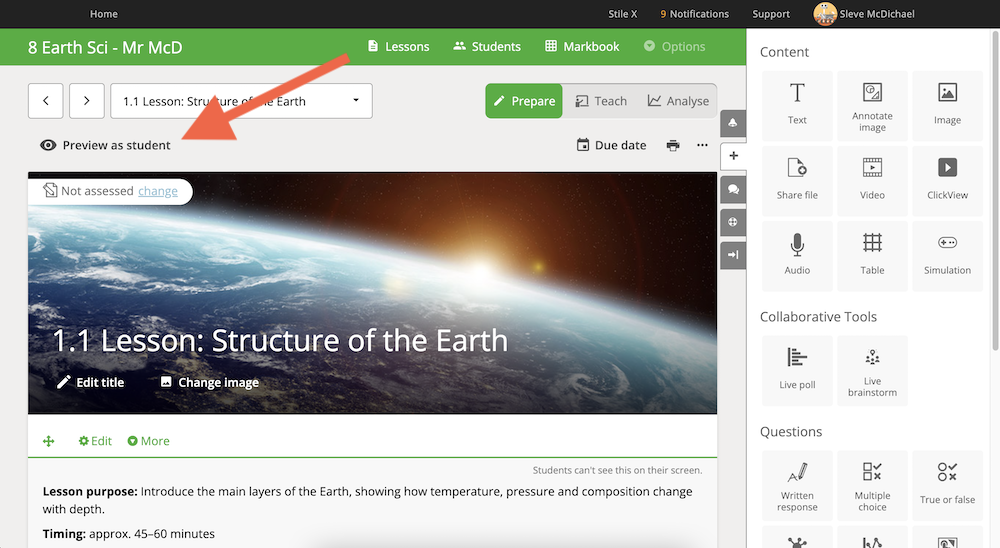 Clicking the Preview as student button in the top left corner of the cover image will switch to a read-only state of the Lesson. It will display with a blue header and hide all editing options and Teacher tips. To exit Preview as student, click the Exit preview button in the same location.
Protip: Use the Preview as student option before releasing each Lesson to check that everything looks as it should. Think of it as taking your own advice and 'proof-reading' your work!
Toggle assessment mode (and what that means)
Lessons are not assessed by default, following pedagogical studies on formative assessment. When Assessment mode is enabled, every question is given a mark value and your students will not be able to take back their work after they submit it to you. Completed assessments are given a percentile grade, which also appears in the Markbook.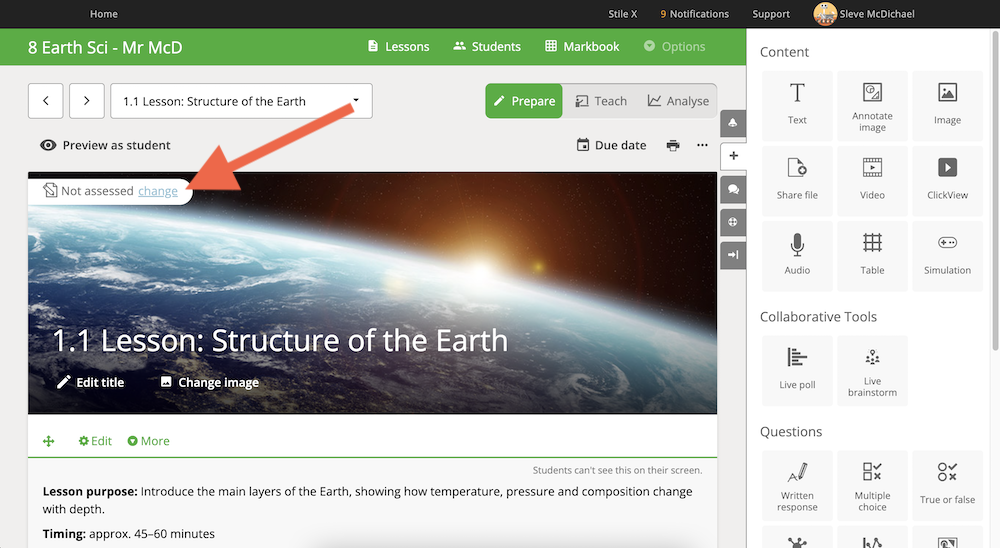 Assessment mode can be enabled or disabled on any Lesson by clicking the Change button next to the assessment mode indicator.
When assessment mode is enabled:
You can assign marks to questions;
Students do not receive feedback from auto-marked questions until you return their work; and
Students cannot modify their work after they submit it.
Edit the title and cover image
Grab your students' attention by adding a catchy title and engaging cover image.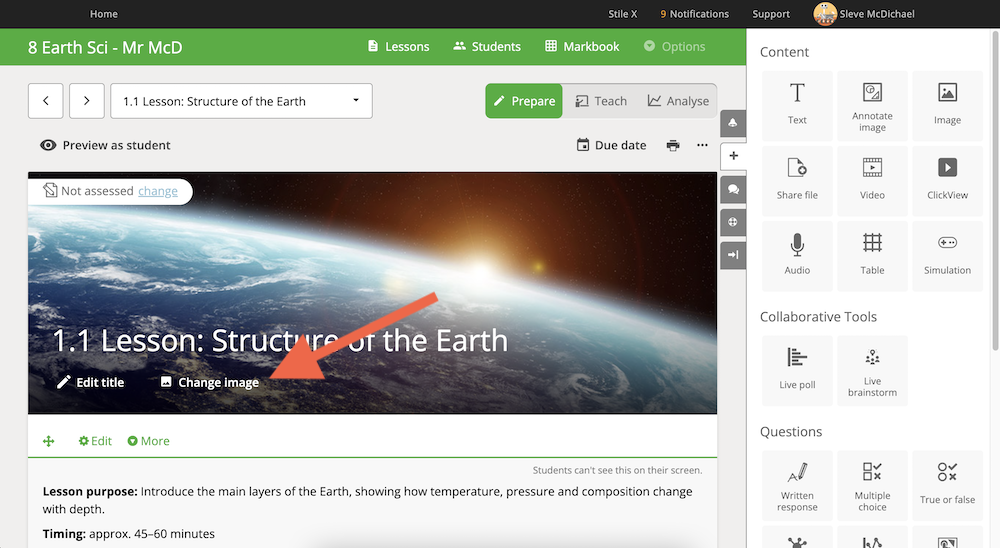 From Prepare mode, you can easily customize the look of your Lesson by clicking the Edit title or Add cover image buttons. To learn more about selecting the best cover image for your Lesson, click here.
Set a due date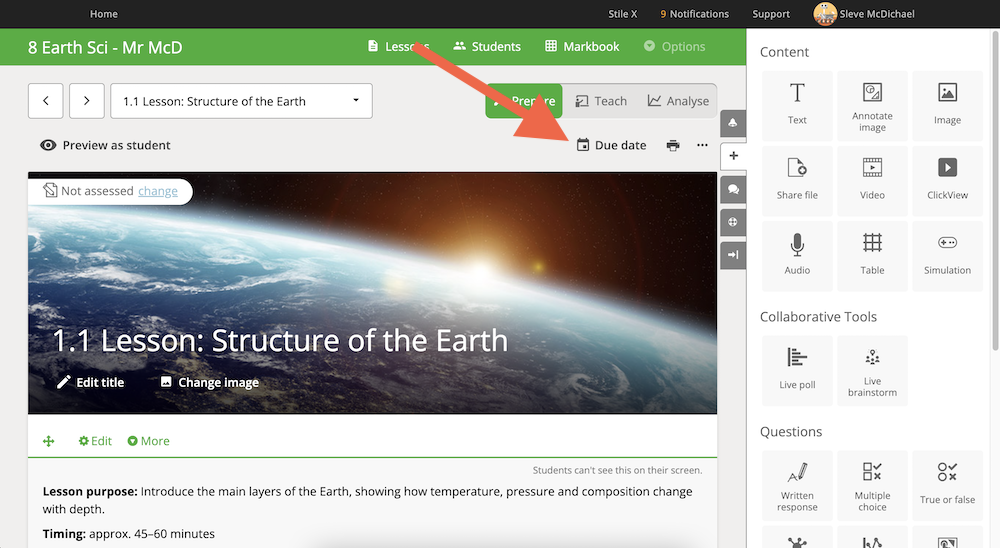 Clicking on the Lesson's Title or the Due date button at the top of the page will allow you to set due dates for each Lesson. Once a due date is set, the teacher will see the due date in green below the Lesson's title and cover image. If multiple due dates are set for individual Classes, then they will all be visible.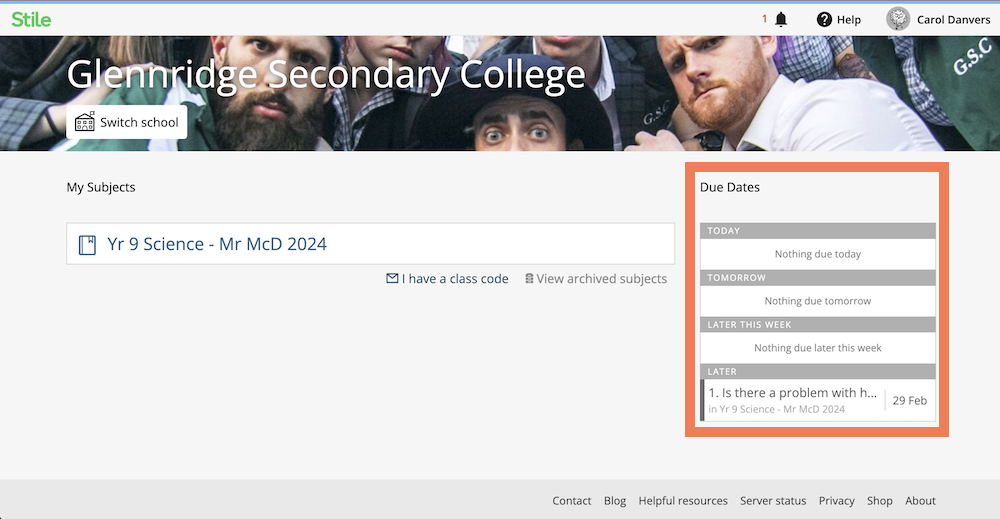 You don't have to set a due date before releasing the Lesson, but if you do, your students will be notified on their homepage.
Print Lesson materials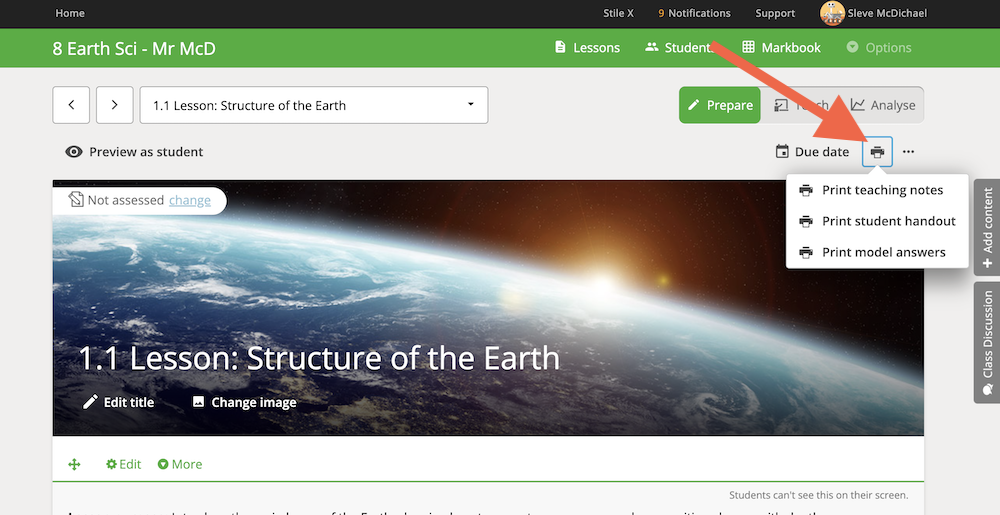 From the Print menu, you have the option to print teacher notes, student handouts, and model answers. If you'd rather, you can also save these documents as a PDF file instead of printing.
Copy, duplicate, or delete the whole Lesson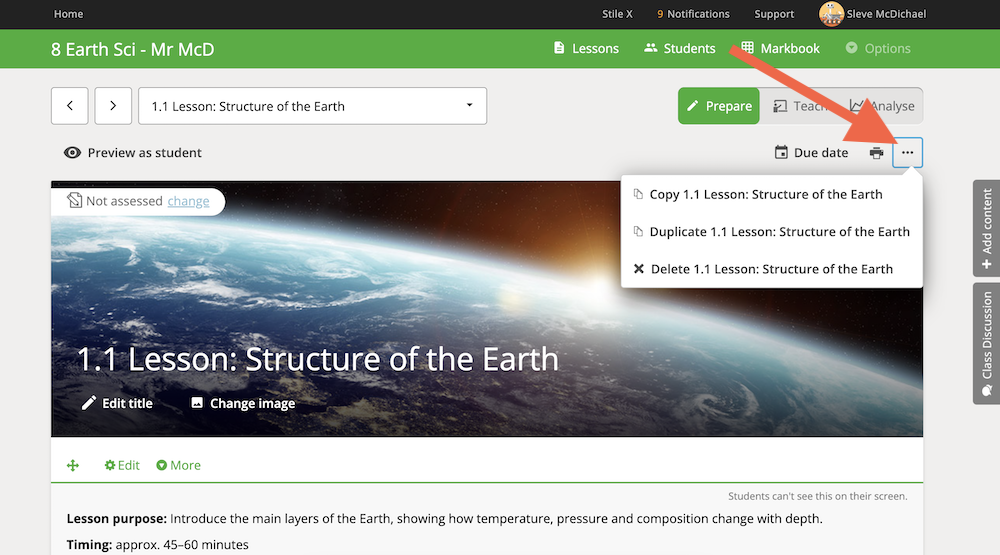 Using the ... dropdown menu, you're able to copy, duplicate or delete the Lesson as a whole.
Copying a Lesson

will allow you to paste a fresh copy of the Lesson into a different Folder.

Duplicating a Lesson

will create an identical copy in the same Folder, but without any student work attached.

Deleting a Lesson

will remove the Lesson from your Subject and any student work tied to it, but don't worry, it's possible to restore accidentally deleted Lessons!
Review teacher tips
Teacher tips are editable in Prepare mode and also viewable in Teach mode. They are always hidden from students unless you share your screen with them.
Teacher tips can be used in myriad ways to enhance a Lesson, including:
Provide extra guidance when leading an activity;

Make notes to co-teachers or colleagues when

sharing the Lesson;

Add links to resources, model answers, or extension opportunities.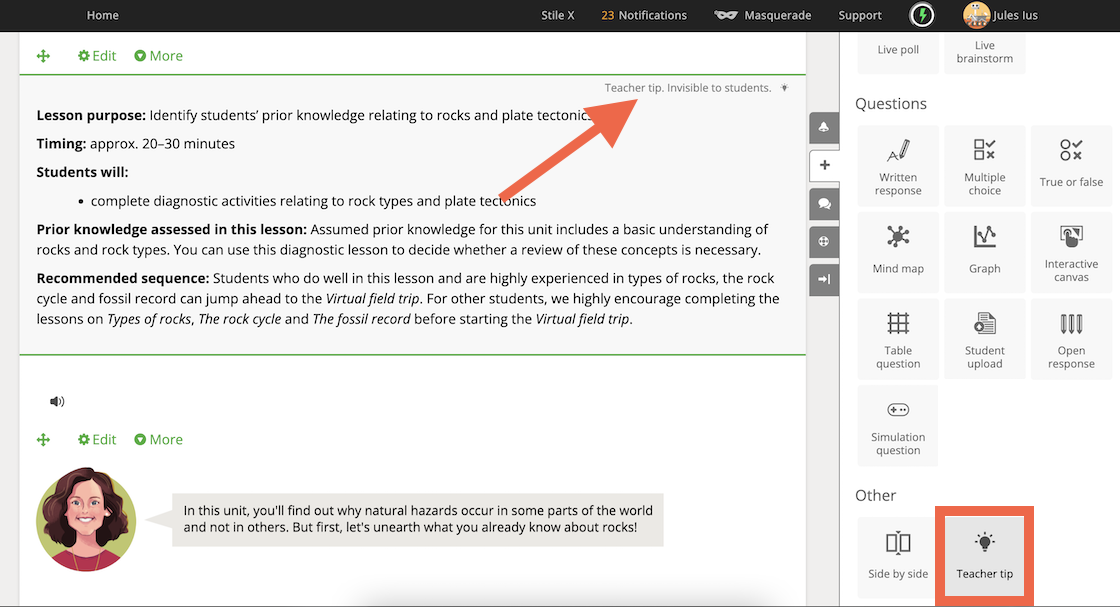 To insert a new Teacher tip, open the Add content sidebar and drag the Teacher tip widget into your Lesson.
Add and customize content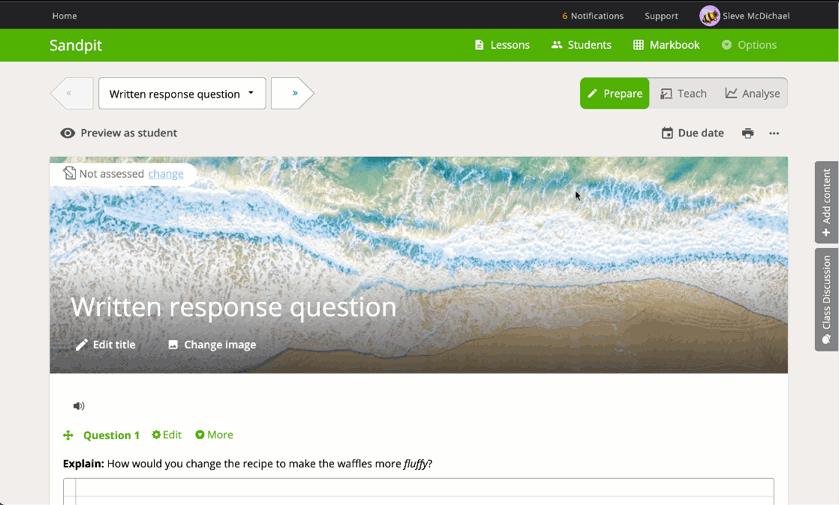 You can edit almost any existing Lesson content or create your own from scratch. You have access to most of the same tools that the Stile content team uses to create all of the Lessons in the Stile Library!
There are a variety of tools available to display different types of questions and content in your Lessons - these are referred to as widgets.
For more information on how and when to use each of the content widgets, click here.
Remove questions and resources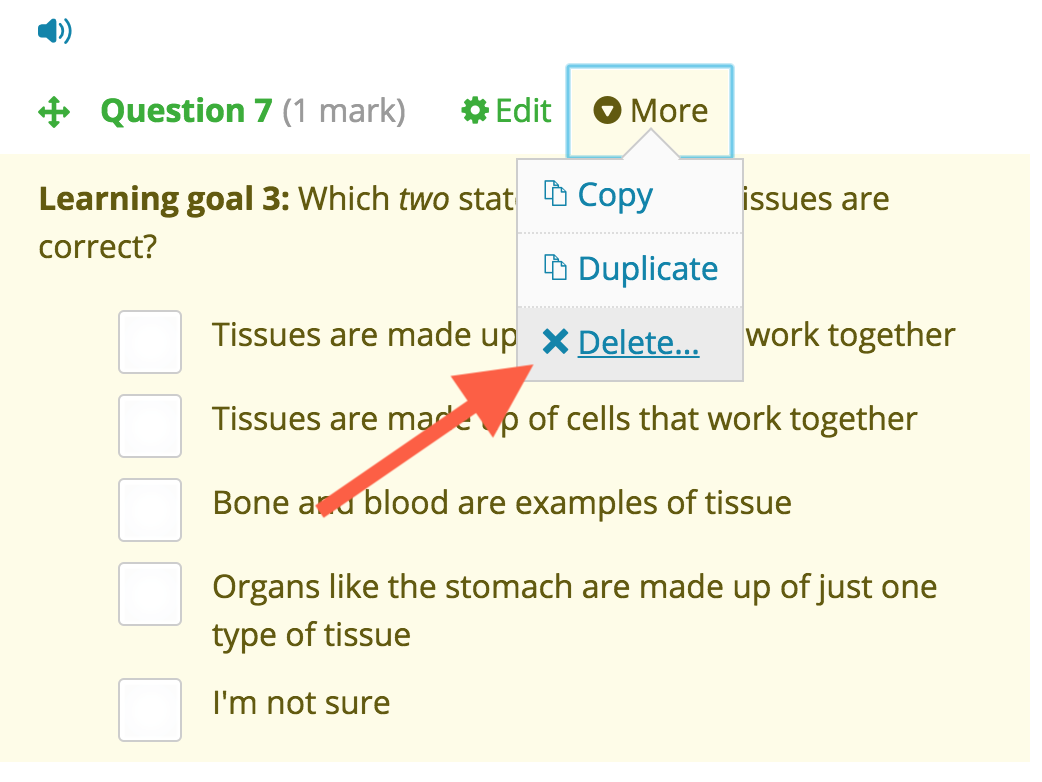 Any unwanted questions or resources can be deleted from a Lesson by clicking on the more menu above a widget and selecting delete.


Warning: Be careful with this one - Deleted widgets can only be recovered by the Stile Support team!
Edit questions and resources

Questions and resources can be edited in a variety of ways, depending on the type of widget. Click the Edit button above the question or content widget to view its specific capabilities.
Note: Remember to click Done when you are satisfied with your changes.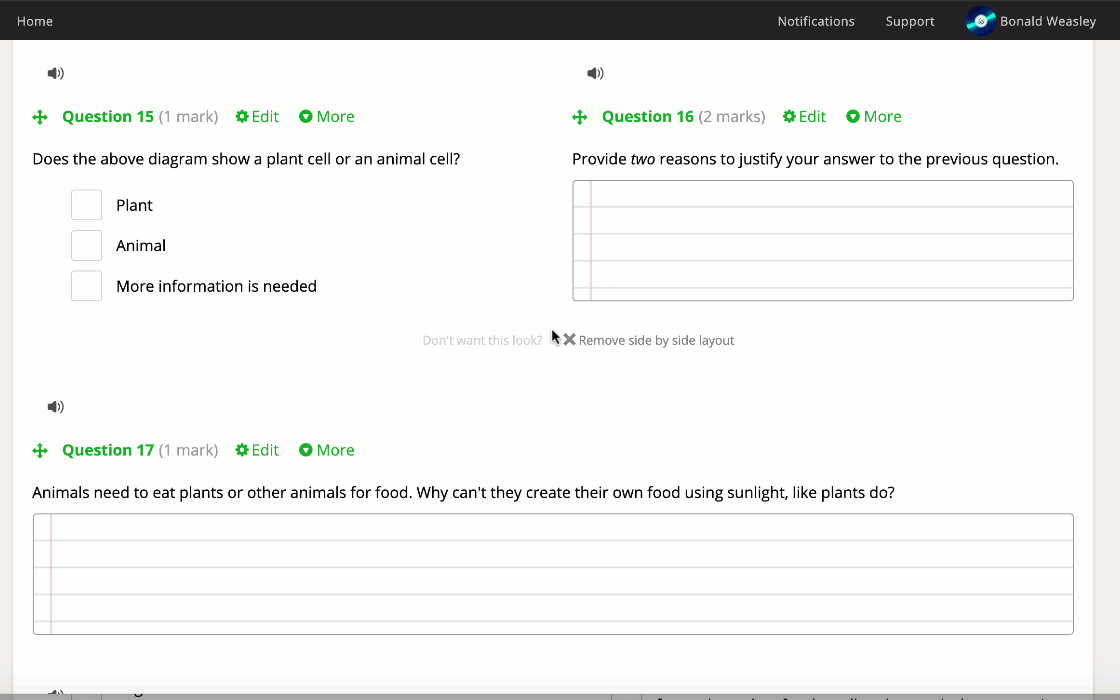 You can also create or edit the Model Answer when editing a question. All Stile Science Lessons come equipped with model answers for you to use with your students.
Model answers can be customized to best suit your learning goals, and they can be released to students or remain hidden.
Add questions and resources
Blank widgets can be found in the Add Content tab of the sidebar on the right side of the screen. This is where you can get creative!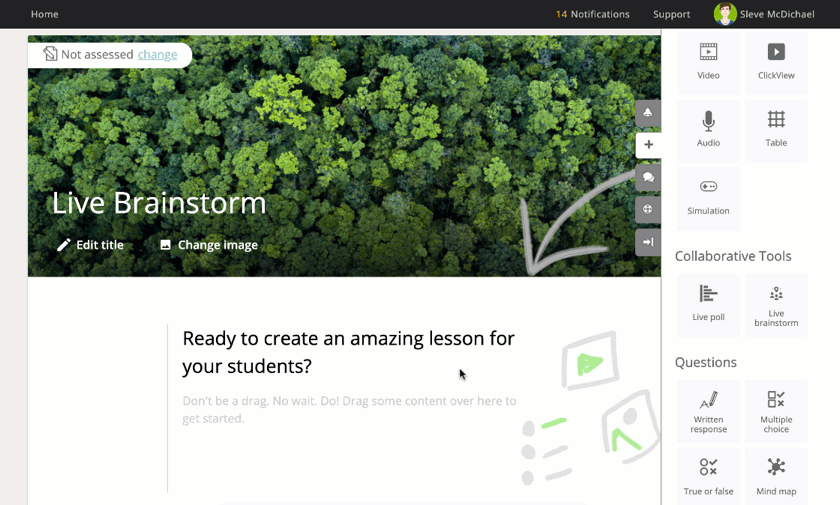 Simply drag your choice into the Lesson, and then fill it with text and resources. In the example above, the Live Brainstorm widget is used to add a discussion topic into the Lesson.
For more information on how and when to use each of the widgets, click here.
---
You may also be interested in the following resources: