Quick review streamlines the marking process for teachers by allowing you to view students' responses to open ended questions on a per-question basis, rather than per-lesson.
This means you can
focus on one question at a time;
get a clearer feel for how the class is doing on that particular question or topic;
and use keyboard shortcuts to quickly mark and navigate through student answers
Check out the quick video tutorial or read on to learn how it works:
Access Quick Review
You can get to Quick Review in two ways.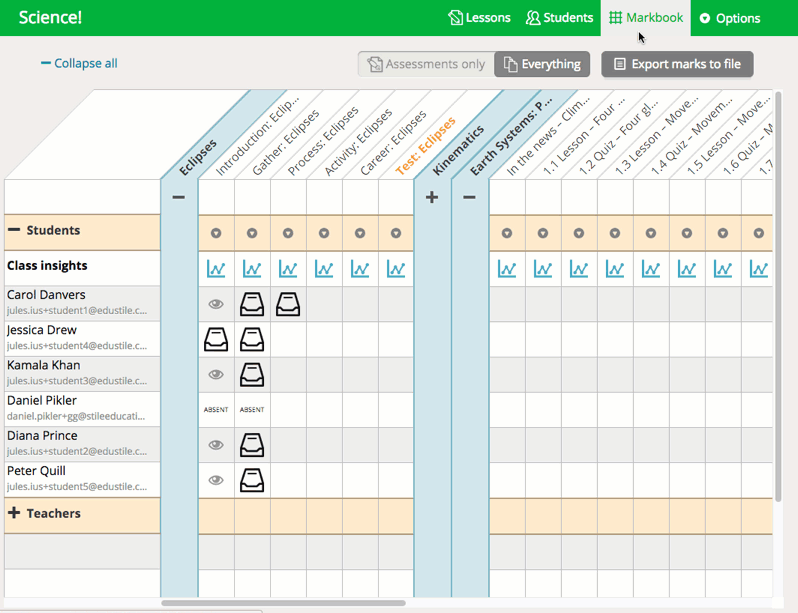 1- Navigate to your subject's Markbook and find the lesson you want to mark. In that lesson's column click on the Class Insights icon above your class list. On the next page, the column on the right shows your Question Analysis. Find the question you want to mark first and click the View Responses button.
Note: This button will only appear on questions that are not automatically marked.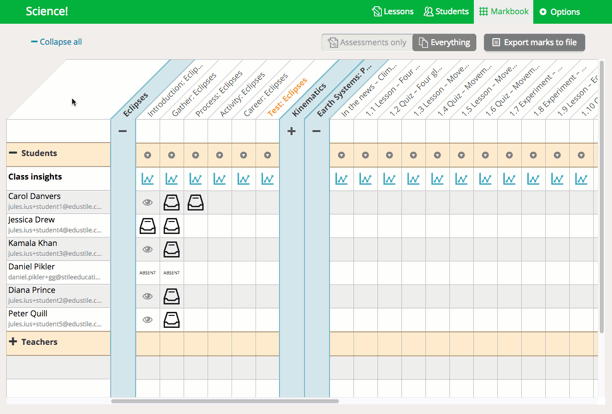 2- Click into any student's work from the Markbook as you normally would and find the question you want to focus on. Click View all student responses next to the question number.
Note: This button will only appear on questions that are not automatically marked.
Quick Review Tools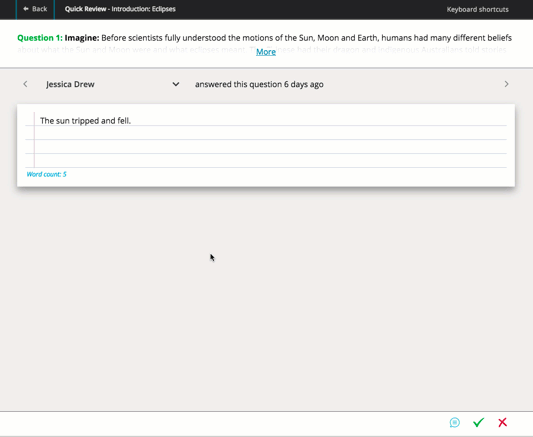 The top of the page holds the question you're reviewing. Below that you have the name of the student you're currently marking. Click the student's name to reveal a drop-down menu that allows you to quickly navigate to specific students' answers. New submissions are listed first. You can also see who is marked absent and who hasn't answered yet.

The student's answer is the main feature of the page. On written responses you can highlight and add in-line feedback. Down below are your main feedback tools: A comments field for customised feedback, as well as Right and Wrong buttons to mark the answer.
Once you've completed marking your students' responses, go back to your Class Insights and select the next question! 
Keyboard Shortcuts
This is the part where Quick Review becomes even quicker! We included keyboard shortcuts for all of the main commands. Click on Keyboard Shortcuts at the top of the Quick Review screen, or type ? to display the list of shortcuts. Hints will also appear over the buttons the first time you use Quick Review.