Upload a video file or embed a video from YouTube or Vimeo.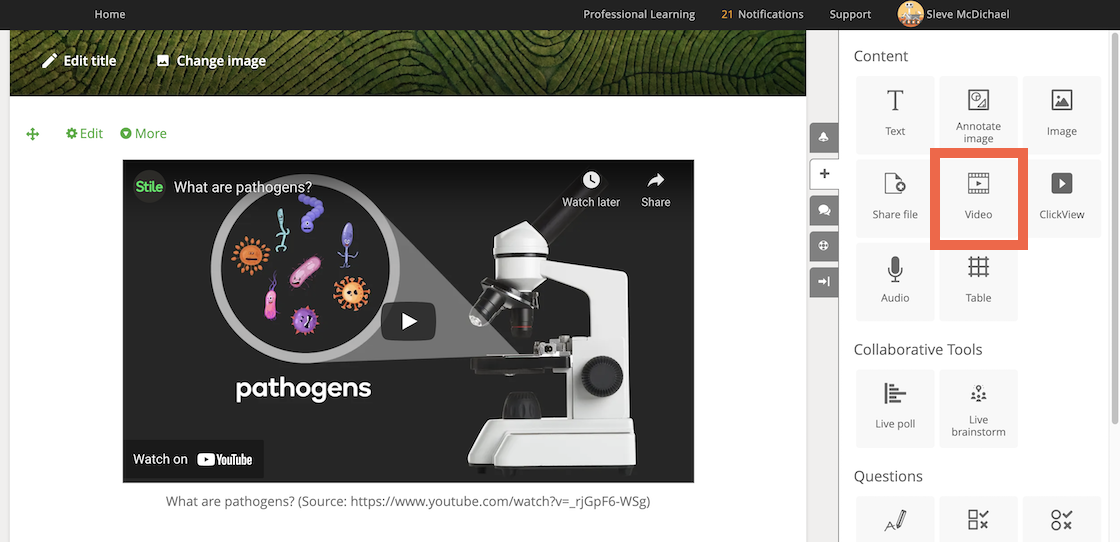 The Video widget allows teachers to add videos to Lessons either by uploading their own file or by linking to one on YouTube. This can be especially helpful for visual learners who benefit from live demonstrations and examples of concepts. It can also create a more engaging way to deliver blocks of information, breaking up walls of text and graphs.
Students can either watch the video independently on their accounts within the Lesson, or you can show the video in fullscreen via Teach mode at the front of the classroom.
Students have access to the Video widget via the Open response widget, which provides an excellent way for students to explain, animate, or demonstrate a practical activity.
The Video widget is not a question, and so it works best when it is used alongside another widget such as a Written response or Multiple choice question. You can also use it in combination with the Side-by-side layout widget.
Continue reading or click to jump to a section below:
Upload a custom video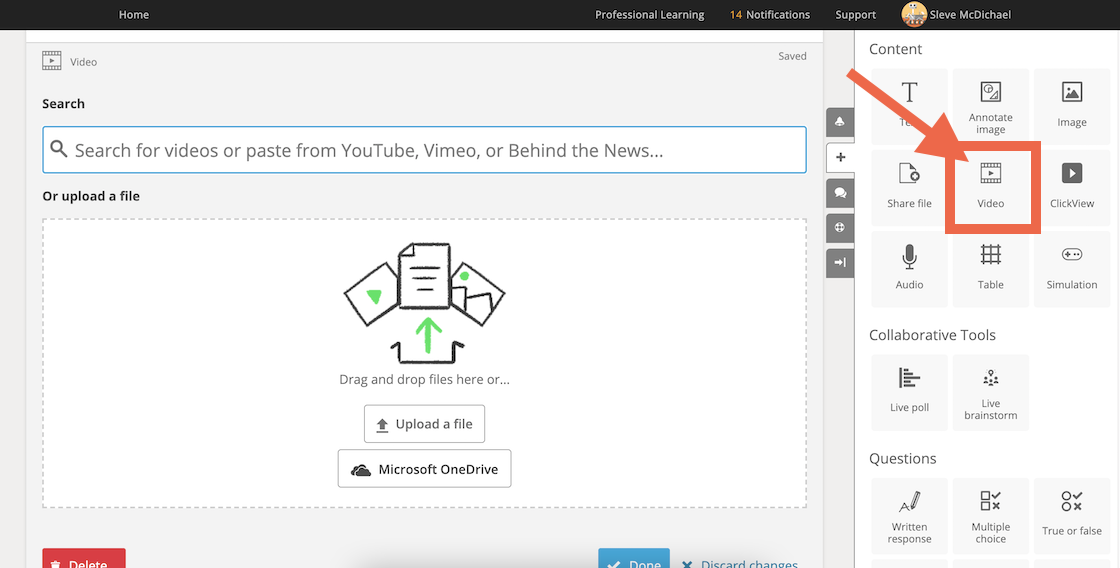 Add the Video widget to the Lesson by dragging it in from the Content section of your content bar. Click the Upload a file button to browse your computer or Microsoft OneDrive to browse your OneDrive cloud storage (if applicable), and then select your video file.
Alternatively, if you have the file folder open on your desktop already then you can drag the file into your Stile window. Most video file formats are compatible for upload.
Uploaded videos will automatically generate closed captions, which can be enabled or disabled by each viewer through the video's settings.
Embed a video from YouTube or Vimeo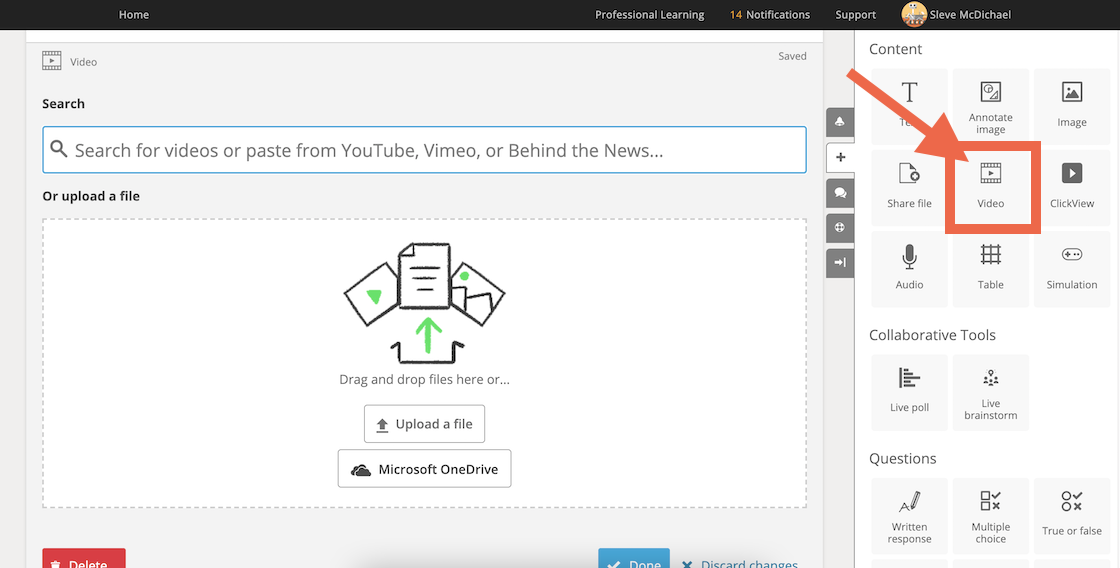 Add the Video widget to the Lesson by dragging it in from the Content section of your content bar. Click into the search bar and type some keywords for a topic you are looking for. Click on a video thumbnail from the options that appear. This will allow you to preview the video and read its description. If you are happy with your choice, click the Use this video button in the lower right corner.
If you already know the specific video you want to use, you can copy the video's web address URL and paste it into the search bar. The video will instantly load in the widget. Embedded videos rely on the source for their captions and won't be generated by Stile.
Warning: Many schools and districts block student access to YouTube. If YouTube is blocked at your school, then it will not play within Stile either. Play the video at the front of the classroom if you still have access as a teacher, or otherwise use a video file that has been uploaded directly from your computer.
Trim the video to show only a relevant section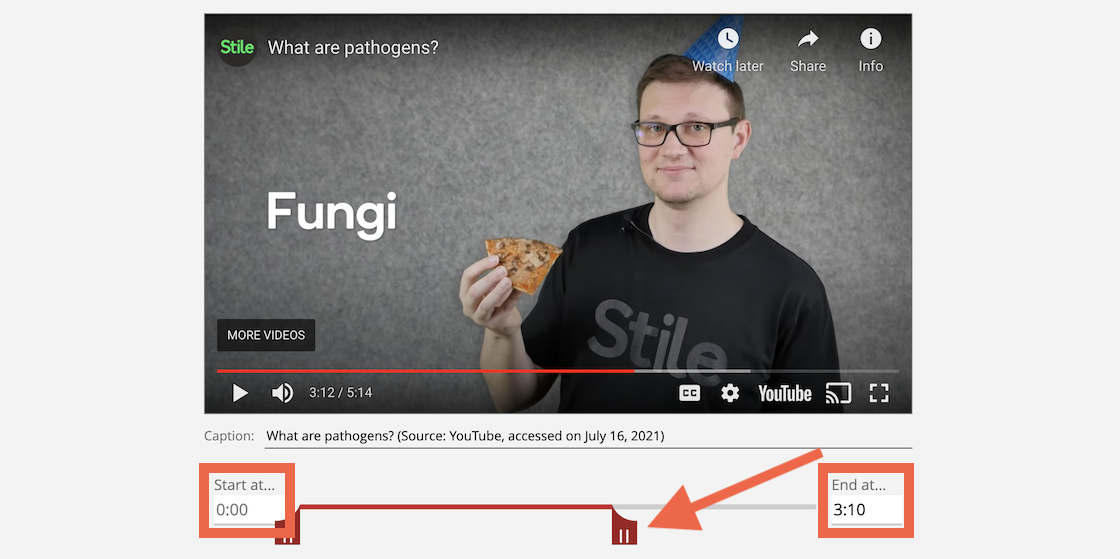 Below the video is the trim bar, featuring a red line with handles on either side and adjustable time stamps for the start and end times of the video. Drag the handles inward to adjust how much of the video you want your students to see. You can also type specific start and end times into the timestamps at either end of the trim bar. The video can be previewed while the trim is adjusted so you can see exactly what will be shown when your students play the video.
Add a caption
The caption appears below the video in a light, italicized font. This space is commonly used to cite the source of the video (e.g. the YouTube link or production company) or to inform students that the video is trimmed to certain timestamps. Type directly onto the Caption line to add your own text.
When you are happy with the video's settings, click the Done button to save your changes.
Use the video with your students
Videos can be watched individually or collectively using the tools available in Stile. Students watching individually will have the same video player options that you can see in your own view including fullscreen mode. If the video is trimmed, then it will automatically stop playing when it reaches your trim mark.
👀 Remote note: If you use Teach Mode to watch the video over video conferencing with your students, be sure that the audio is enabled for everyone when sharing your screen. It's best to experiment with this before class if you haven't done so before!
The Video widget is not a question, and so there's nowhere for a student to take notes or answer a question. If you would like to pair a video with a note-taking space, consider using the Side by side widget to place the video alongside a Written response question.
Troubleshooting tips if the video does not work
Some schools completely prohibit students from accessing YouTube. If this is the case, then they will not be able to watch YouTube videos in Stile either. If you have access to YouTube as a teacher, we recommend playing the video at the front of the classroom so your students can watch it together. Alternatively this can act as a case of flipped learning: prompt your students to watch the video at home, the day before your class session.
Your school's IT team may be able to whitelist certain YouTube videos to allow your students to access them on the school network. Ask them if this is possible and provide them with the direct link to the YouTube video.
Some web filters and firewalls, such as Zscaler, require users to log into Zscaler before they can watch YouTube videos. This may need to be repeated each day to access YouTube. Check with your school's IT team if you think this may be the case for you and your students.
Videos uploaded directly to the widget should be accessible by all students and teachers. Proper school network configuration can help to ensure that this works smoothly. Please send this this article to the school's IT team if students or teachers encounter difficulties when playing embedded videos.
If only one or two students are having difficulty playing a video in your Class, then the issue is most likely related to their browser or device. Have them try the 5 quick troubleshooting steps listed here.
---
You may also be interested in the following resources: