Add context, links to resources, and presentation notes that your students cannot see.
Teacher tips are text boxes that you can use to add information to a Lesson for you and your co-teachers. This can include materials and preparation notes for a practical activity, links to external resources such as risk assessment templates, suggestions for extension work, or prompts to use with your students during active discussion.
Teacher tips are fully visible and editable in Prepare mode. They are hidden by default in Teach mode and can be revealed by clicking on a small icon. Students won't see anything at all on their worksheets.
Click to jump straight to a section or keep reading below:
How to set up the teacher tip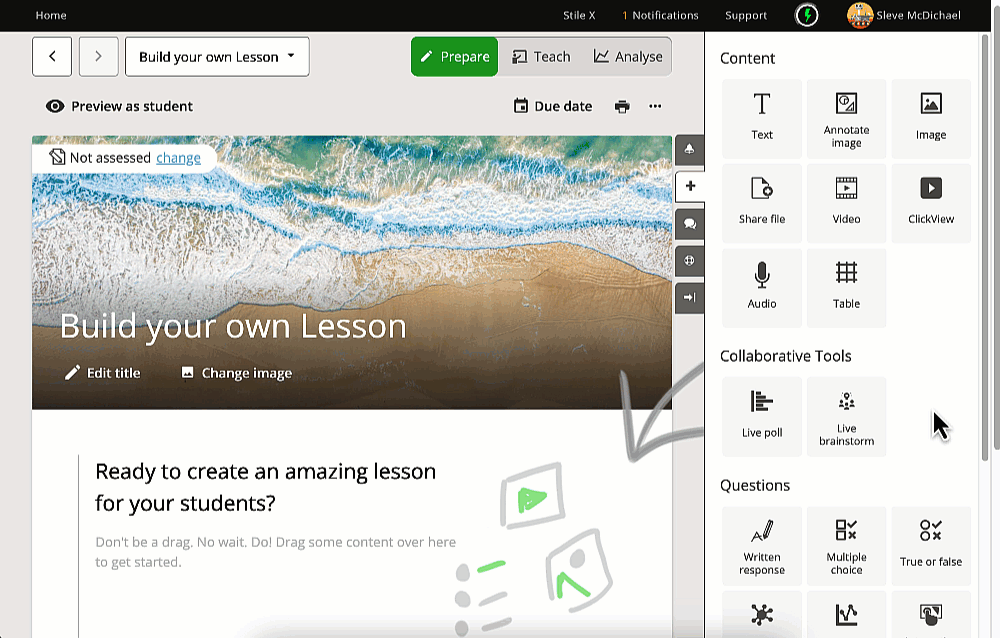 The teacher tip widget can be found in the Other section at the bottom of your content bar in Prepare mode. If you can't see the content bar in your Lesson, click on the Add content tab sticking to the right edge of your page. 
When writing the tip, you have access to the full rich text toolbar that includes options for formatting, special characters, and mathematical notation. Click here for a complete tutorial on what's available. You may want to help yourself and your co-teachers with some visual cues, such as writing key points in bold or highlighting differentiation notes with italics. If there are multiple steps for preparation or several links to external resources, then outline them in a numbered list. This is entirely up to you!
Teacher tips can only include text. If you want to include an image or video, then they should be available at an external website (e.g. Youtube or shared on a cloud drive) so you can provide links to them.

Choose which category best suits the context of your tip. This step is optional with General being the default selection. Categorizing the tip adds a visual queue to help you and your colleagues understand at a quick glance what the tip is about.
When you are happy with the tip, click the Done button to save your changes.
How you and your co-teachers interact with the tip
Tips are highlighted with a green outline and a grey background to visually separate them from the rest of the Lesson. Tips always appear fully visible in Prepare mode, so you can get the full context of the Lesson with notes and resources before delivering it to your Students.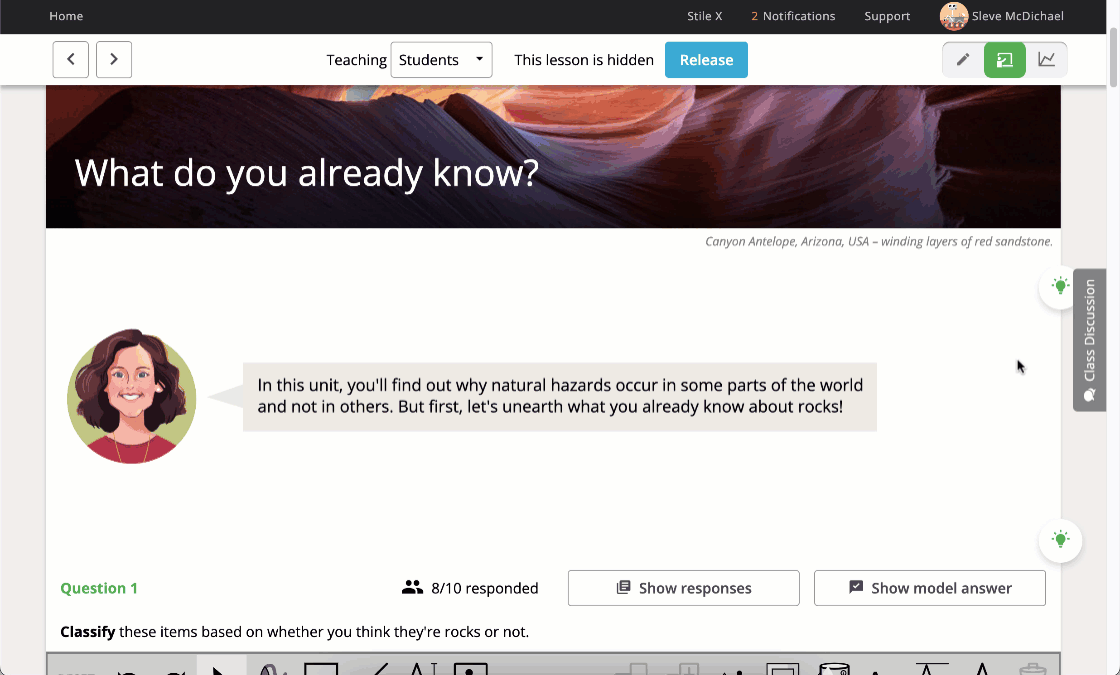 Teacher tips are hidden by default in Teach mode, and you can click the small lightbulb icon on the right side of the page to reveal the tip. Click the icon again to hide the tip. This is especially great if you need a quick reminder of what materials are needed, or if you need to quickly grab a supplemental link to give to your students.
How students interact with the tip
They don't! When a student looks at a Lesson, there is zero indication that the teacher tip is there at all. When you reveal a tip in Teach mode, it will not be revealed to students on their screens. The only way to allow students to interact with teacher tips is to share your screen or present it at the front of the class. 
Protip: To see exactly what the student sees, click the Preview as student button at the top left of your page while in Prepare mode.
---
You may also be interested in the following resources: