View individual Lessons and the Lessons overview page as if you were one of your students.
The Student view offers you a look at what your students will see the on their own devices. It hides all Teaching notes, model answers, and Lesson editing options, and it can accurately display which Lessons are released to a specific Class or student.
There are two ways to see what a student sees:
View a Lesson as a student
The student preview allows you to see your Lesson exactly as it will be displayed to your students.
Clicking the Preview as student button in the top left corner of the cover image will switch to a student-centric display of the Lesson. Your Subject header and question numbers will change from green to blue, and all editing options and teaching notes will disappear. This view matches what your students will see when you release the Lesson to them. Click the Exit preview button in the same upper left corner to return to your normal view.
Protip: Use the Preview as student option before releasing each Lesson to check that everything looks as it should. Think of it as taking your own advice and 'proof-reading' your work!
View which Lessons are visible to a Class or a specific student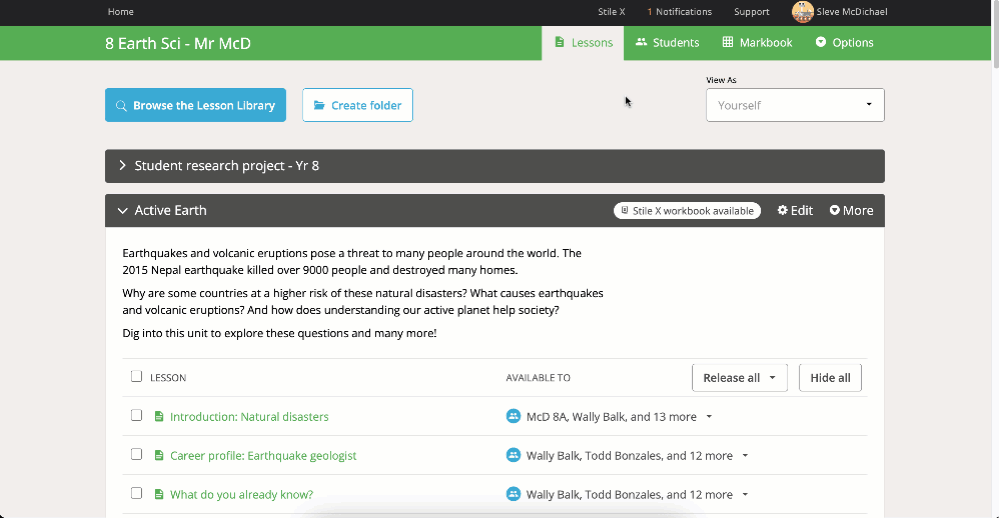 To access student view on the Lessons page of a Subject, click into the View as dropdown menu near the top right corner of the page and select a student or Class. The page header and Lesson titles will change from green to blue, and it will display the Lessons that are released to that student or Class. When looking at a specific student, you will also see the progress icons appear next to their Lesson titles. These accurately reflect what that particular student can see when they view your Subject.
Return to your normal view by selecting Yourself from the View as menu.
---
You may also be interested in the following resources: