We now automatically archive subjects that haven't been touched for three months.
Don't worry - they're not deleted, just in read-only mode, and can easily be restored at any point!
Why archive?
We often have students write in that subjects they were in last year (or even later) are still on their home page. In order to help them, we now pop them all into the archive after three months. You can access the archive at the bottom of your subject list on the home page:

If you're teaching the subject again and want a fresh copy of the subject for your new class, either watch this video or read on!
Click 'Copy to new subject':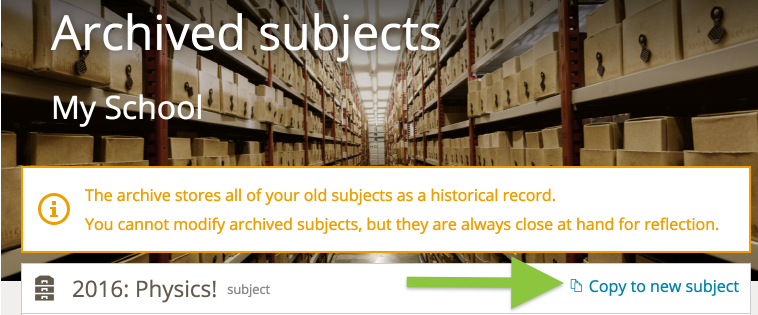 This will create a new subject, with all the lesson content, but without any student data. Click on the subject to see what's inside.
If for some reason, you need to restore it, you can do so at any point. Click on the subject and then press the 'Unarchive' button:

However, be mindful of past students – please only do this if current students need to continue working in this subject.
If you have any questions about archiving at all, please don't hesitate to get in touch with the Stile team here.
Share to the library
You can also share any folder of lessons in the archive to the library. Simply click on the 'More' menu of the folder and select 'Share to my school's library':