Stile is designed to be used as a blended learning tool, with the teacher as a facilitator. If using Stile to teach students remotely, we highly recommend using it in conjunction with video conferencing software.
Summary
Release lessons
Like you normally would, you can release a single lesson or multiple lessons to your students. Depending on your plan, you can release lesson-by-lesson as your students complete them, or all the lessons you plan to cover in a week or over the entire closure period. Find out more here.
Set due dates
You can set due dates on each lesson so that students know when certain lessons are due. Once you assign a due date, this will appear on each student's home page and any overdue lessons will be highlighted.
Use Class discussion
If your students are working on the same lesson at the same time, using Class discussion is a fantastic way for students to collaborate, ask questions and discuss points raised. Class discussion is a lesson-specific chat room that you have complete control over — you can open or close it any time and can delete any comments that go off track.
Monitor progress and leave feedback
Particularly when you aren't physically in the classroom with your students, it's important to monitor how they are progressing through the lesson, make sure they're on track, catch any misconceptions and, if time allows, give them targeted feedback. 'Teach Mode' makes it easy to monitor all of this in real-time. Sharing your screen with students via video-conferencing software during the lesson can help them to follow along as well.
Add video and audio clips
To add a personal touch to your lessons and highlight key points, you can include your own video and audio clips.
Detailed instructions
Manage which lessons your students can see and work on using the

differentiation controls.
You have total control over what lessons you want your students to see in each of your subjects on Stile. Using the differentiation controls within each folder, you can quickly and easily assign lessons to whole classes or specific students.
By default, all Stile science lessons will be available to all students except for quizzes and tests, which will be hidden.
Examples of when you would use this feature:
You want to hide some lessons to prevent students from jumping ahead;
Your students are about to take an end-of-unit test and you want to make it "closed book";
You want to release extension work or a differentiated lesson to individual students without everyone seeing the lesson.
Not what you're looking for? Try these resources instead:
Step-by-step guide
You can manage lessons in the following ways.
Click to jump to each step-by-step guide or continue reading below:
1. Hide all or release all lessons to all students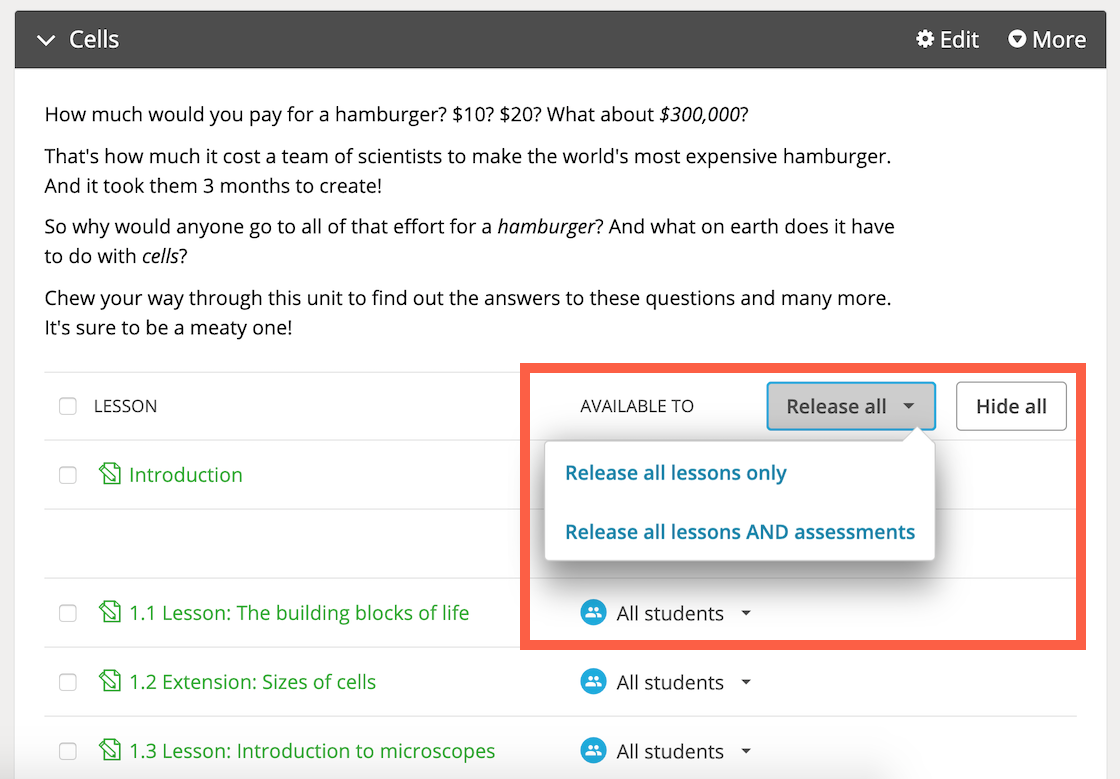 Every folder now includes a Hide all button. Click it to hide every lesson in that folder from all students.
Next to that is a Release all menu. Click on the menu to reveal the two options.
The first option will only release lessons that are not marked as

assessments.
The second option will release everything in the folder including lessons marked as

assessments.

(If you are not familiar with the difference, you can learn more about assessments

here.)
2. Hide or release a single lesson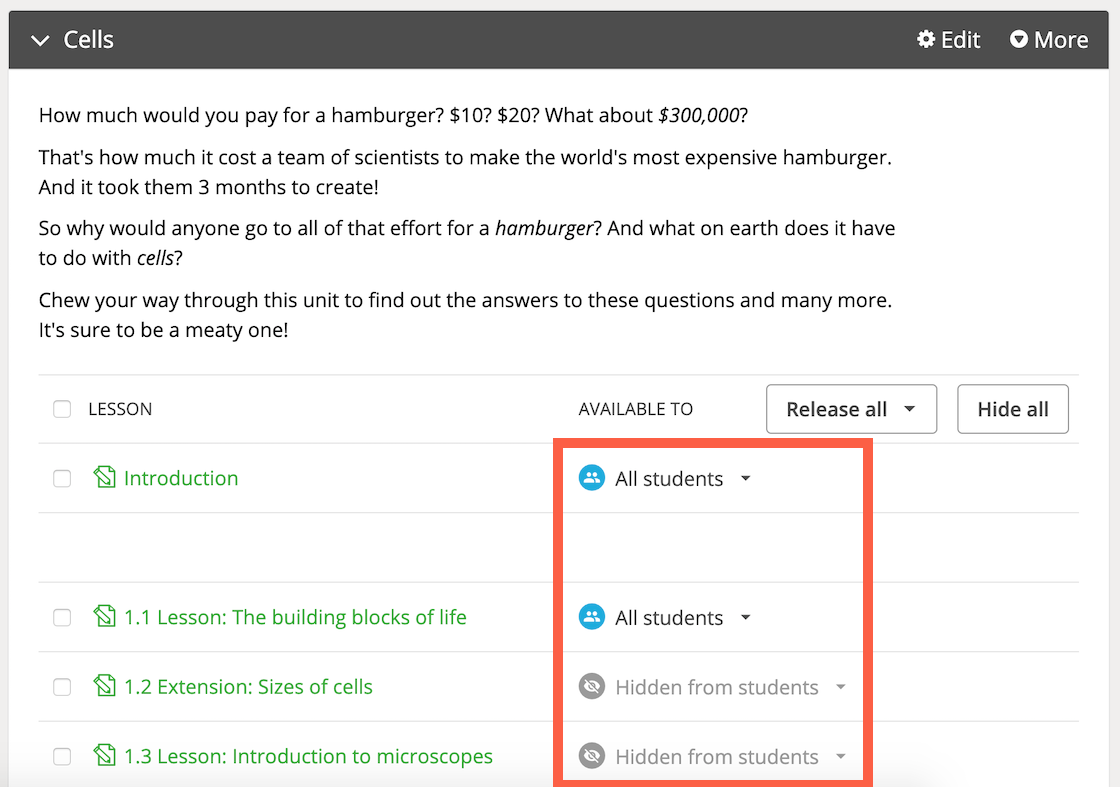 To the right of each lesson's title are the differentiation controls in a column labeled Available to. These are the controls which allow you to select who can see each lesson.
By default, these controls will either appear with a blue icon and the words All students or a grey icon and the words Hidden from students. Each lesson has its own set of controls. In the image above, Introduction and 1.1 Lesson: The building blocks of life are each released to all students in the subject. 1.2 Extension and 1.3 Lesson are each hidden from all students in the subject.
Click on the controls next to the lesson you want to manage and a menu will appear.
Tick the box next to

All students

to release the lesson to every student in the subject. This will fill in every other tick box in the menu, as in the example above.
Tick the box next to a specific

class

to release the lesson to all students within that class. This will fill in every tick box within that specific class.
Click on a class to see the list of all students grouped into that class. Tick the box next to a

student's name

to release the lesson that specific student.
Anyone who is not marked with a blue tick will not be able to see the lesson. This means that to hide the lesson, all you have to do is untick the boxes. Everything you do here is instant, so you won't need to confirm or save any changes.
3. Hide or release multiple lessons at once
To the left of each lesson title is a tick box. These boxes allow you to manage multiple lessons at the same time. They do not release the lessons when you tick them. Instead, they reveal a set of differentiation controls that will manage every lesson you tick.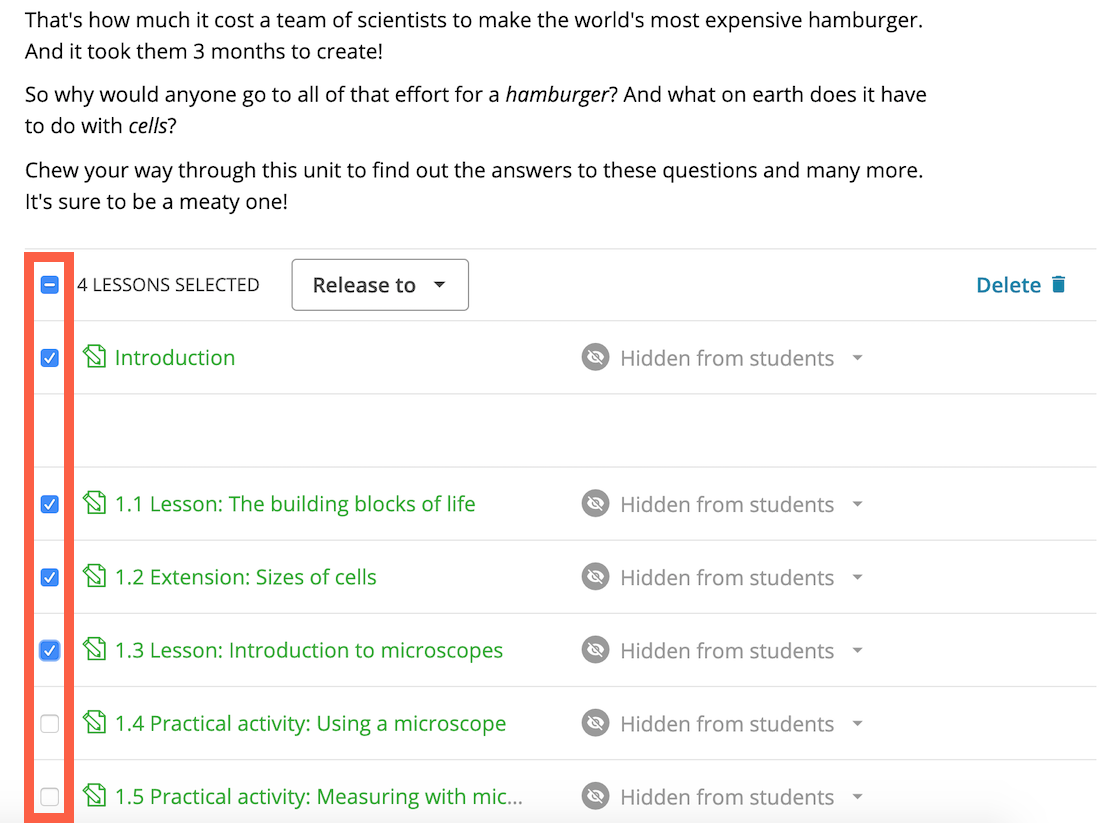 Tick the boxes to the left of lesson titles to select those lessons. Alternatively, tick the box next to Lesson at the top of the column to select every lesson in the folder.
Protip: If you want to select most of the lessons in a folder, tick the top box first and then untick the lessons you don't want to manage.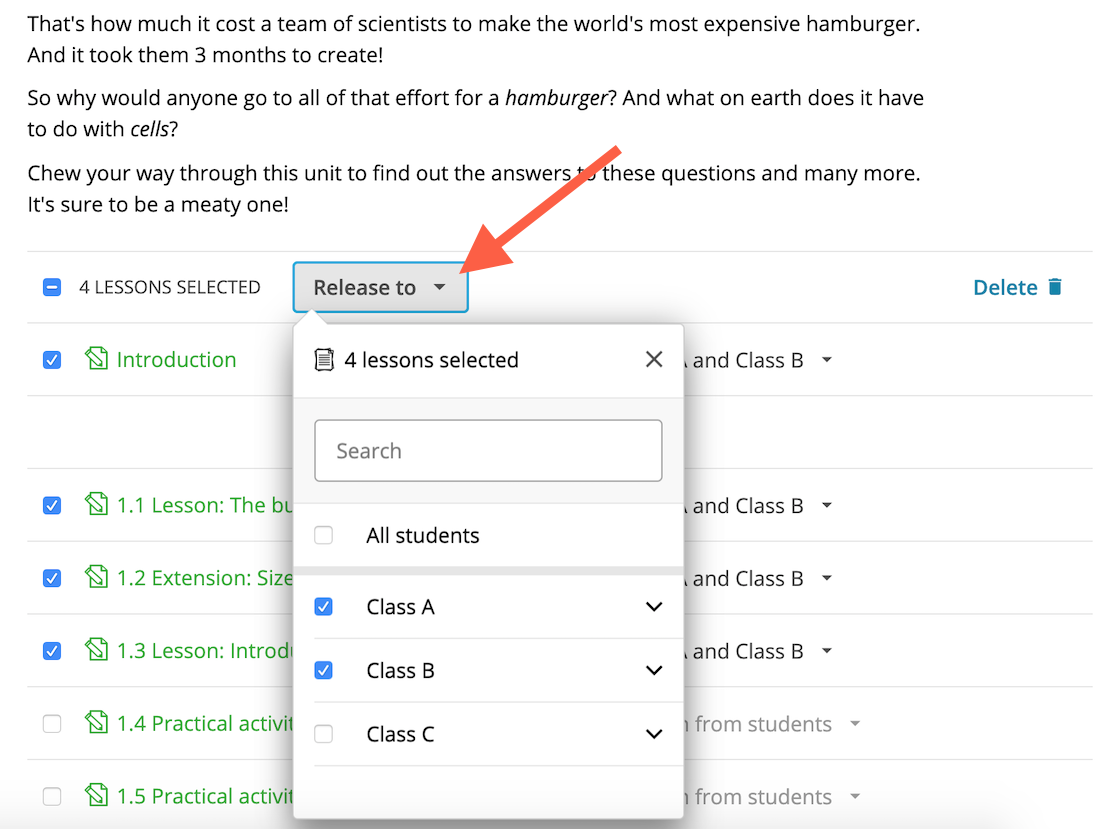 Click on the Release to menu that appears at the top of the lesson list. Select which classes and students to release the lesson to:
Tick the box next to

All students

to release the selected lessons to every student in the subject. This will fill in every other tick box in the menu.
Tick the box next to a specific

class

to release the lesson to all students within that class. This will fill in every tick box within that specific class, as in the example above.
Click on a class to see the list of all students grouped into that class. Tick the box next to a

student's name

to release the lesson that specific student.
Your lessons are now ready to use with your students. 🥳
Due dates help students and teachers keep track of their work.
This article covers the following:
How to set the due date on a lesson;
What the teacher sees;
What the student sees.
1. Set the due date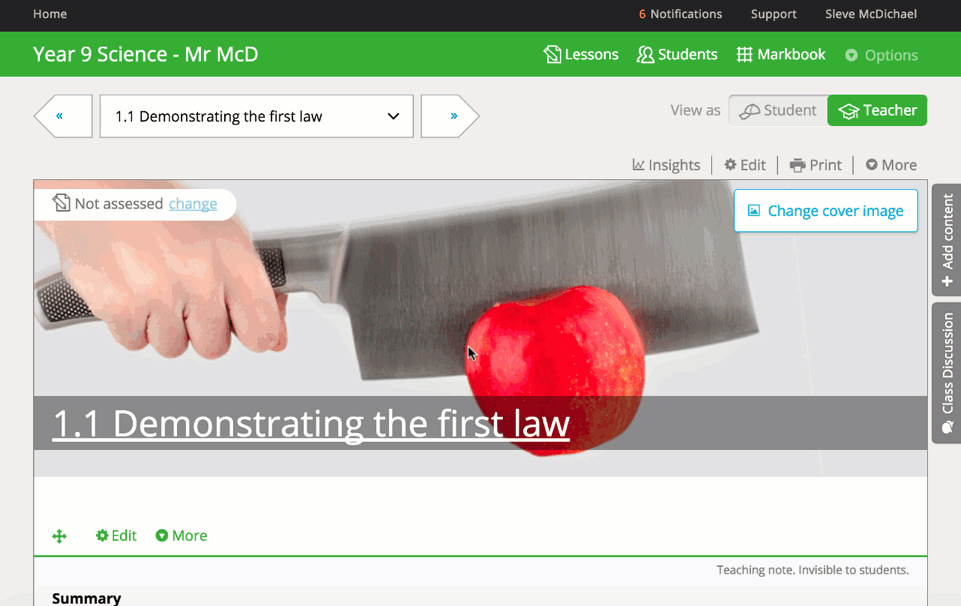 Click into the lesson as if to edit it, and then click on the lesson's title.
Directly below the title field is the due date. Click into the text field or on the

calendar icon

to set the date.
A new field and

clock icon

will appear to set the time. Type directly into the field or use the sliders to set the time.
Click the

Save

button to save the new due date.

If the subject has multiple classes that require different due dates, then click I want to set a due date for each class to reveal more options.
2. What the teacher sees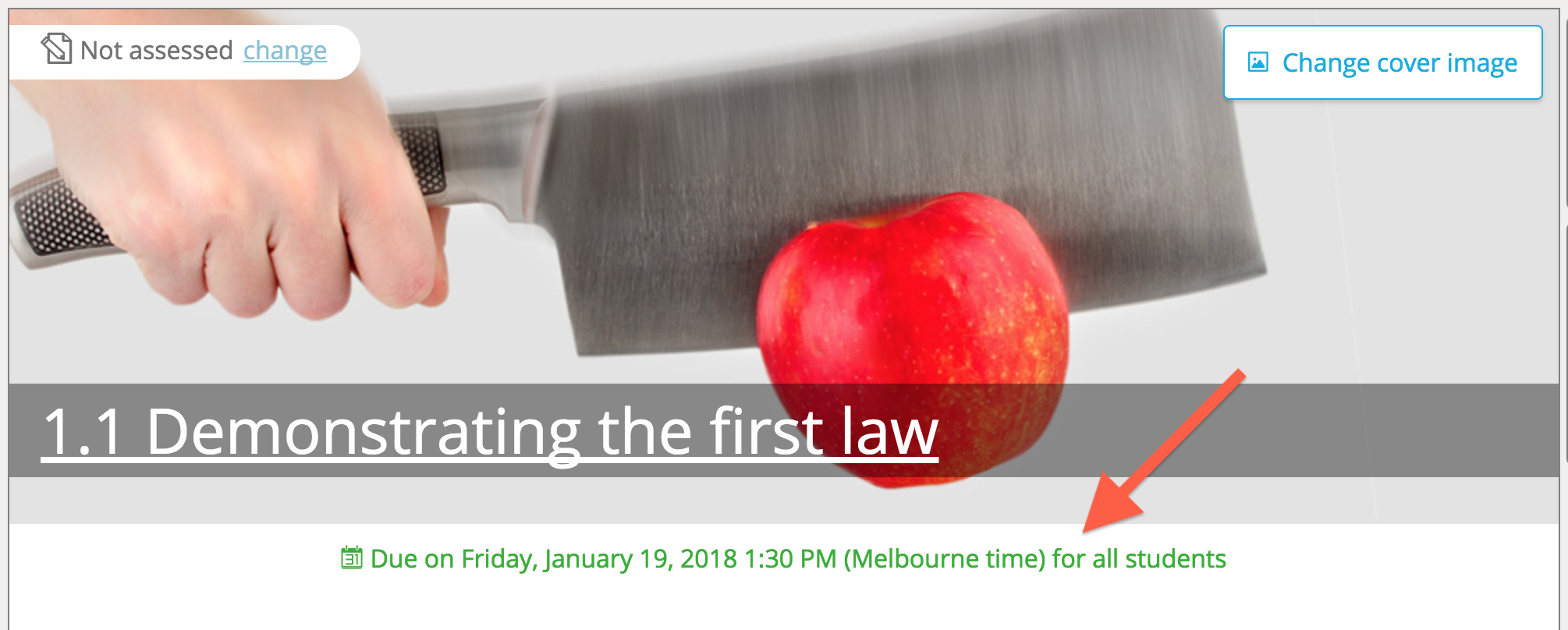 The teacher will see the due date in green below the lesson's title and cover image. If multiple due dates are set, then they will all be visible.
When a student submits work after the due date, there will be a red clock icon beside their work in the Markbook.
3. What the student sees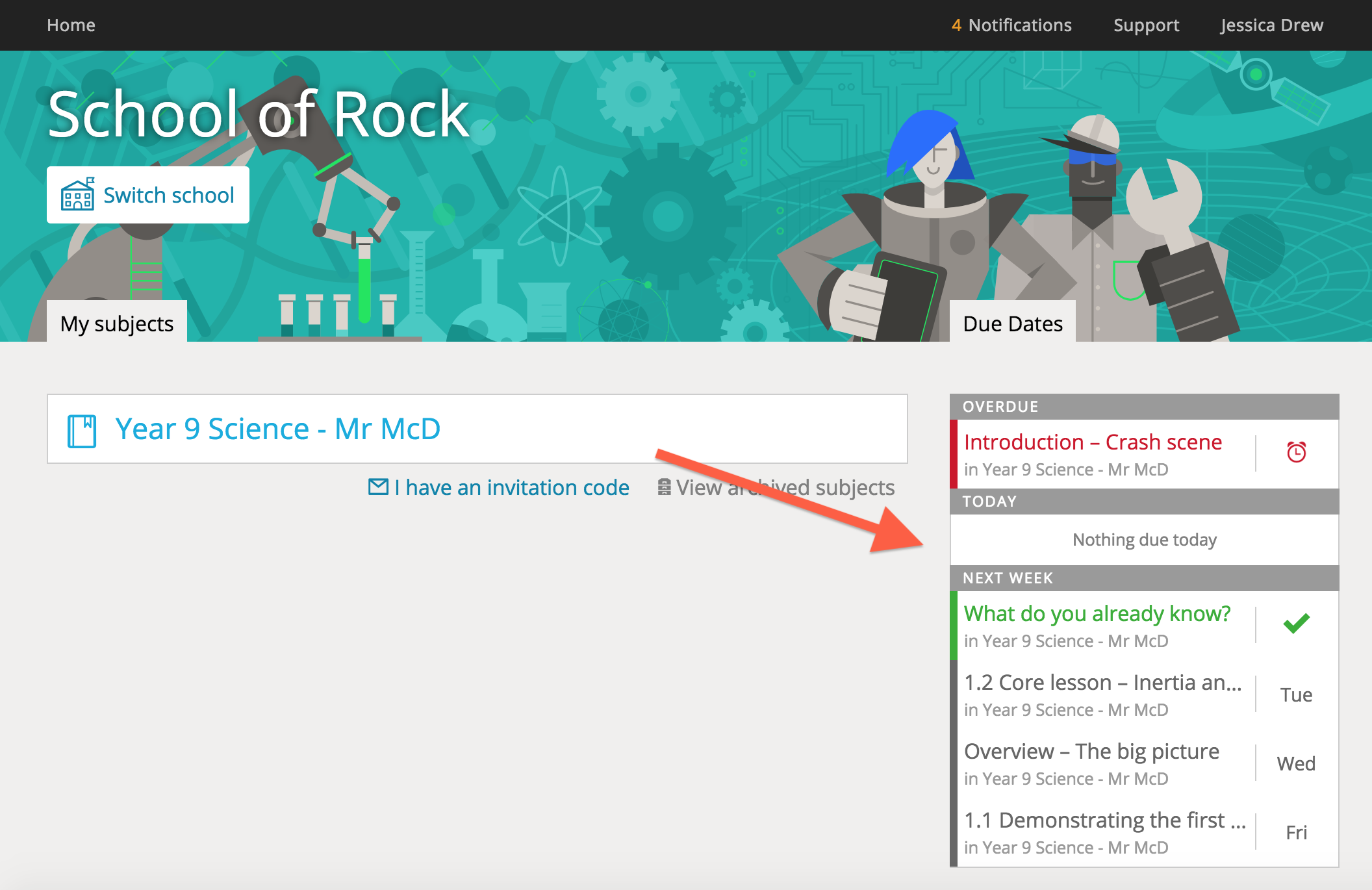 The student's home page contains a list of due dates on the right side, broken down into Overdue, Due today, and Due next week. Overdue lessons are highlighted in red and marked with a red ringing alarm clock icon. Lessons completed on time are highlighted in green and feature a green check mark icon. The student can click directly into the lessons from this list.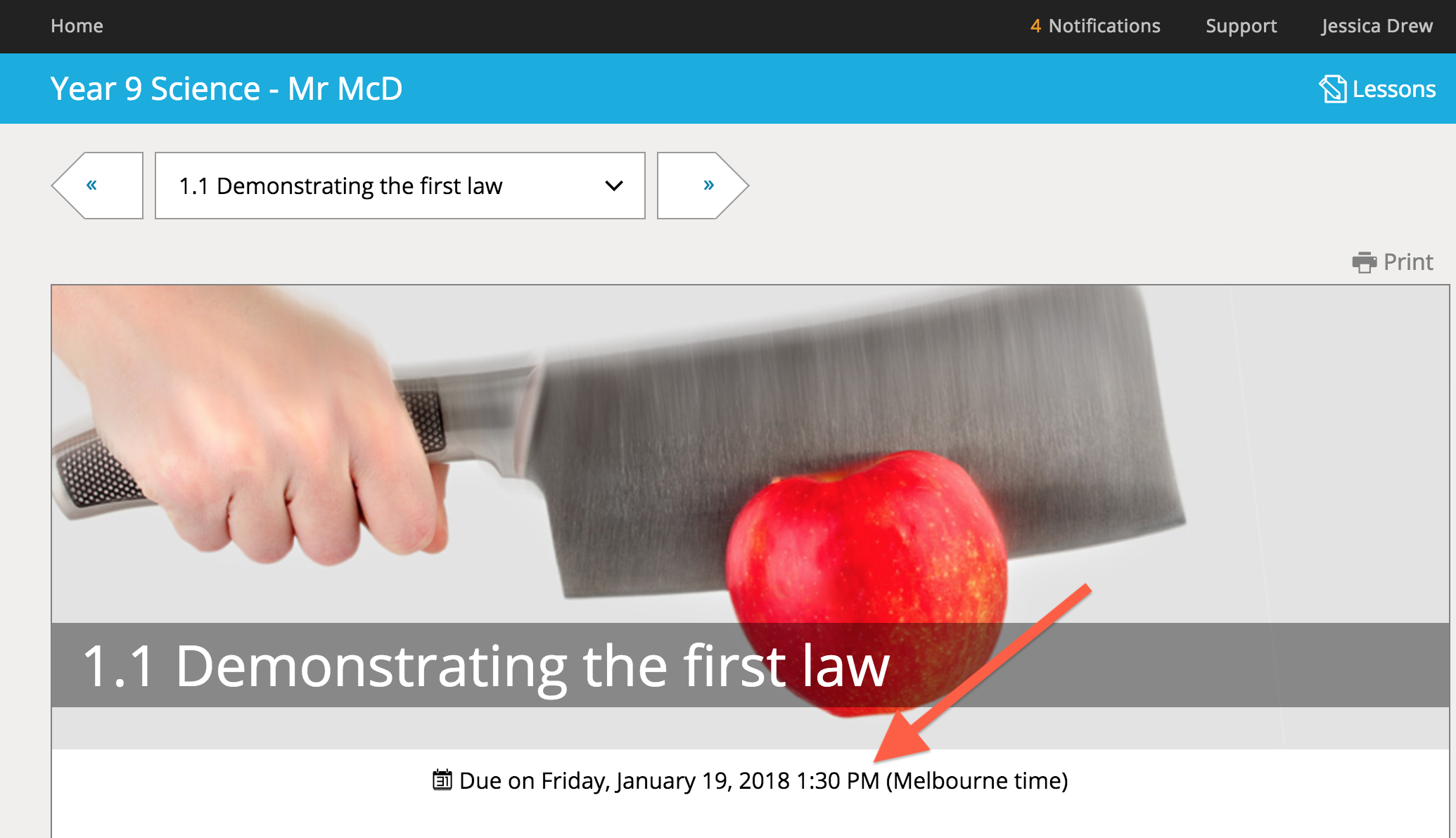 The student will see the due date specific to their class in black below the lesson's title and cover image.
Class discussion is a chat room built into every lesson that allows all students and teachers in a subject to talk about the lesson's content.
It is disabled by default and can only be switched on by the teacher.
Class discussion can allow students to collaborate outside of class and quietly discuss topics during class. Each lesson has its own class discussion. When discussion is enabled, all students in the subject can participate as long as the lesson is released to their class.
Students can upload images and videos to share.
Teachers can highlight insightful comments and hide inappropriate or off-topic comments.
Enable Class discussion
Note to students: Only the teacher can open discussion. Stile's Support team will not do this!
From the Lessons page, find the lesson to be discussed and click into it. The content creation bar on the right side of the screen will automatically open.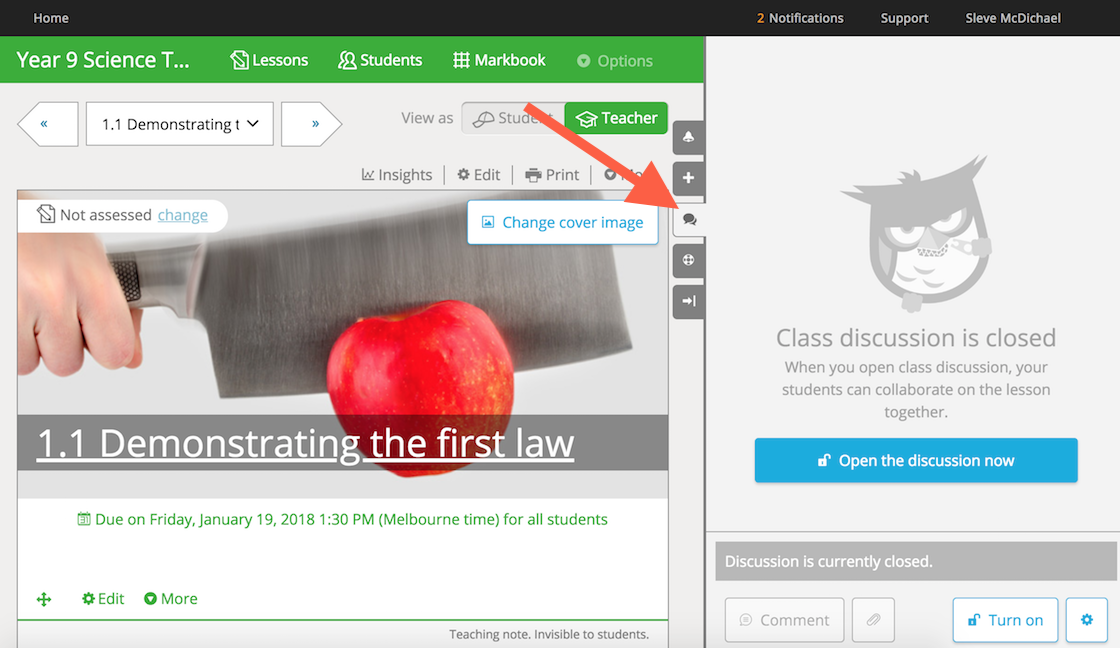 Click the Class discussion tab (marked with speech bubbles) just below the Add Content tab (marked with a +) to reveal the chat bar.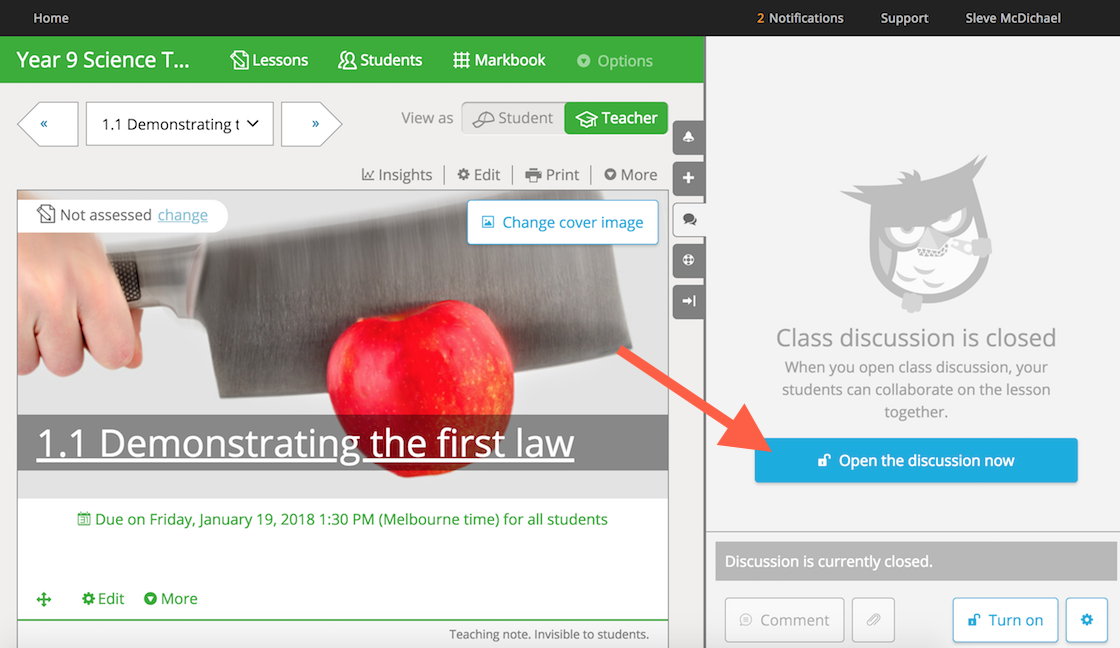 Click Open the discussion now to enable chat for all students and teachers.
Upload content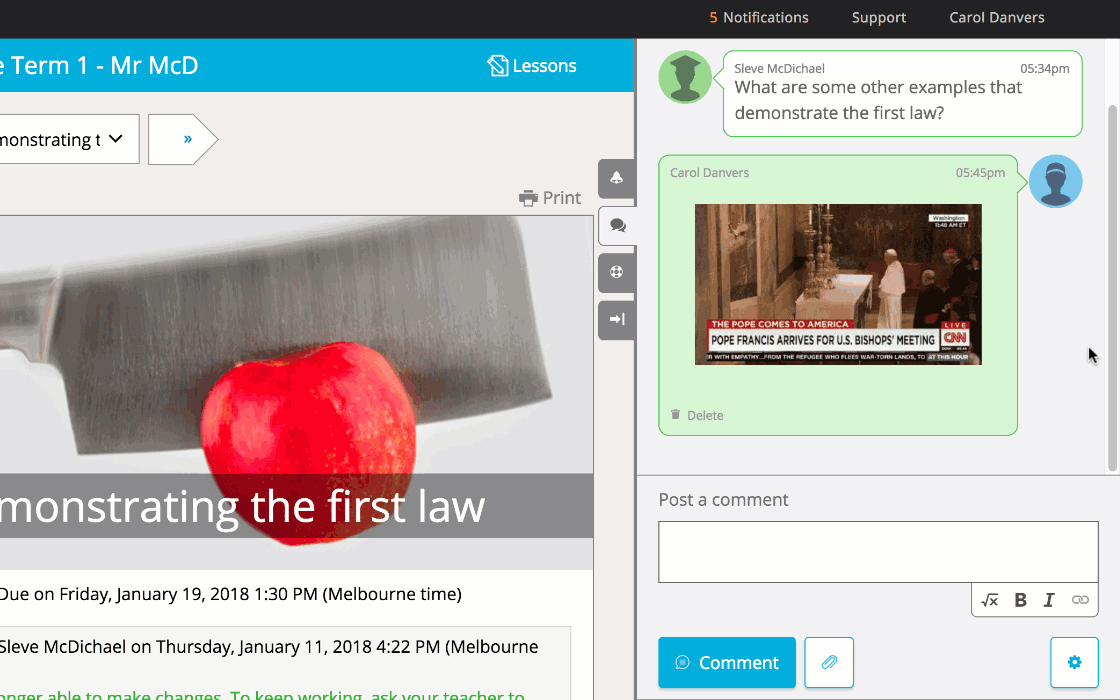 Students and teachers can share images, GIFs, and more by using the Attach button, marked with a paperclip. Enlarge and play uploaded content by clicking on it.
Moderation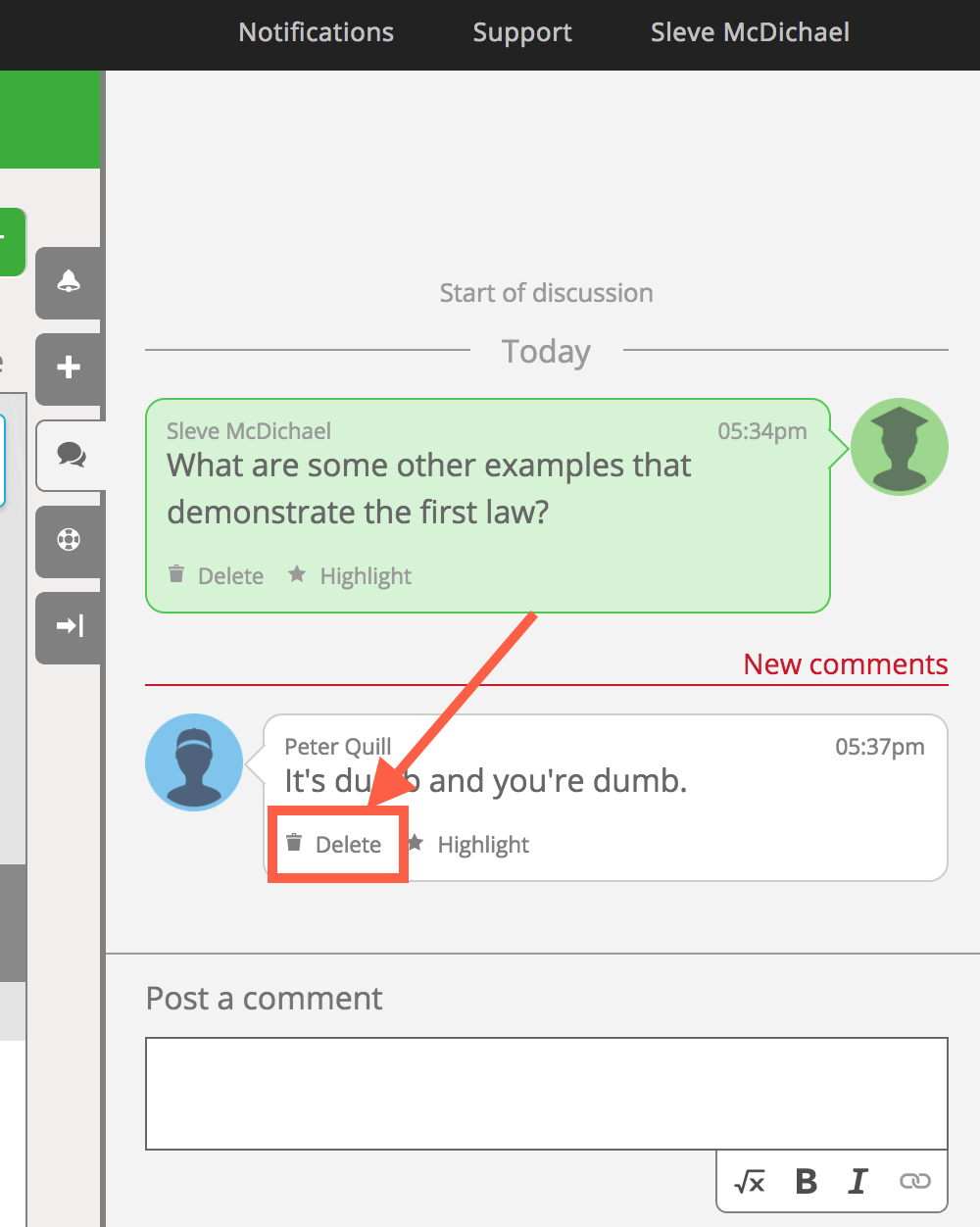 Teachers can direct the class discussion through Moderation. Highlight useful contributions or delete inappropriate comments. Deleted comments are greyed out in teacher view and hidden completely from students.
Teach mode
Prepare Mode is ideal to use before class. You can read through the lessons you will be teaching, review the teacher notes and edit lessons to differentiate the content for your class.
"Preview as student" is still available but only from the Prepare tab.

Teach Mode combines the previous three pages: analytics, student view and teacher view, into a single page with all the information and controls to more easily use Stile as a true blended tool.
Teach Mode is a presentation mode that allows you to model the lesson with students and view per question analytics. You can see where students are up to and what they're having difficulty with. It aims to enhance the collaborative nature of teaching with Stile and will even prompt you to add students to a class and release the lesson.
Some examples of Teach Mode in action might be
Presenting content within Stile, for example, a video, up on the projector, while the students have their devices closed.

Running a poll or brainstorm. In this case, the students are participating on their devices, while you are looking at the real-time results on your screen.

Students working independently through a section of a Stile lesson, and you walking around to help people. Prior to or during the time, you might want to demonstrate how to complete a question to your students, particularly if it's an interactive canvas question.

During or after periods of independent work,

You may want to discuss student answers to particular questions up the front of the class or talk through the model answer with the class.

You might want to get a snapshot of student understanding by looking at per-question analytics.

See how far along students are through the independent work that has been set.
Analyse Mode remains as useful as ever and provides a snapshot of how students are travelling in the lesson.
Upload an audio file or record it directly within a Stile lesson.
The audio widget allows teachers to add sound to lessons, either by uploading an audio file or by recording it live. Students have access to this same feature via the Open response widget.
The audio widget is not a question, and so it cannot be marked or require a response from students.

Start by dragging the widget into the lesson. There is no text field available because it is not a question.
Click upload an audio file if the desired audio is already saved to the computer. Most audio file formats are compatible.
To record live audio, first ensure that the device's microphone is enabled in the browser and then click Start recording.
Add a caption (optional) to describe the recording. Click Done to save changes.
Suggested applications
The audio widget is strongest within the Open response widget, where it can be used to improve accessibility. In particular it allows students with lower literacy or differing abilities to respond by recording audio rather than having to write their answers. Teachers can offer feedback to audio responses, too.
Videos can be embedded from YouTube, Vimeo, or ABC Behind the News. Video files can also be uploaded directly from the device.
Videos can be a great way to break up large blocks of text while still delivering valuable content. It can also provide a way to record experiments and demonstrations to view at home, if doing so in the classroom is not an option.
The Video widget allows the teacher to customise the experience:
Browse

YouTube for the right video or

link

directly to a specific video on YouTube, Vimeo, or ABC Behind the News (for ClickView videos,

read more here)
Upload

a video from the teacher's computer or device
Trim

the start and end points of the video to cut out any unnecessary information
Add a

caption

describing the video and its source.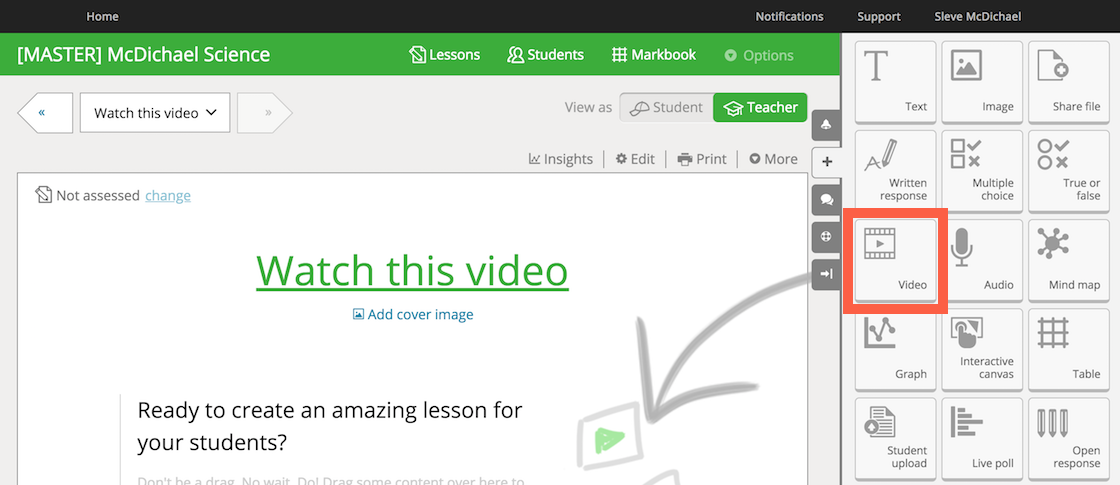 Drag the Video widget into the lesson to get started.
Find the right video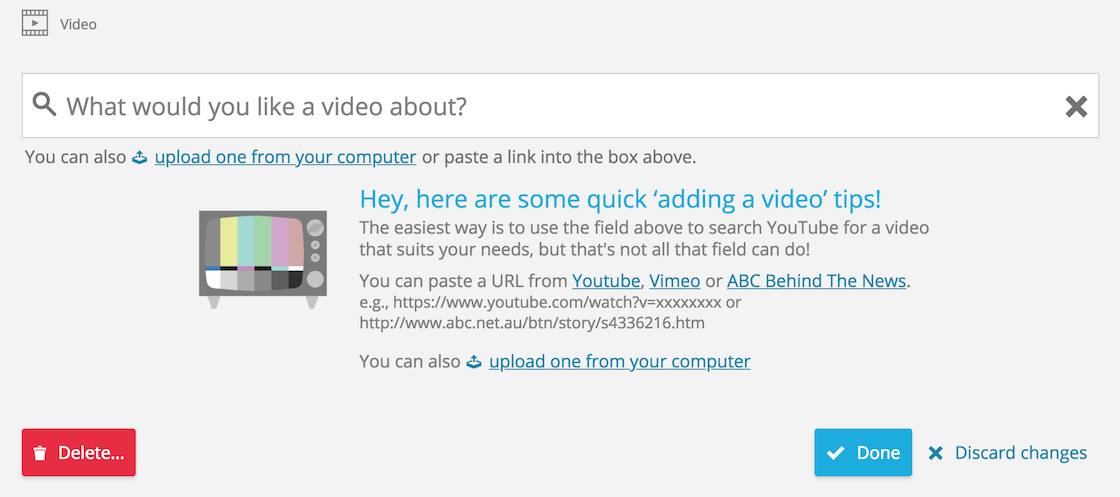 Type some keywords into the search bar and a list of suggested videos from YouTube will appear. Alternatively, paste a link directly to a specific video to embed it or click upload one from your computer to add something saved locally.
Once a video is selected, a preview will appear. Click the blue Use this video button below the preview to confirm. Don't click Done yet!
Trim the video
If only part of the video is relevant to the lesson, then the rest can be cut out.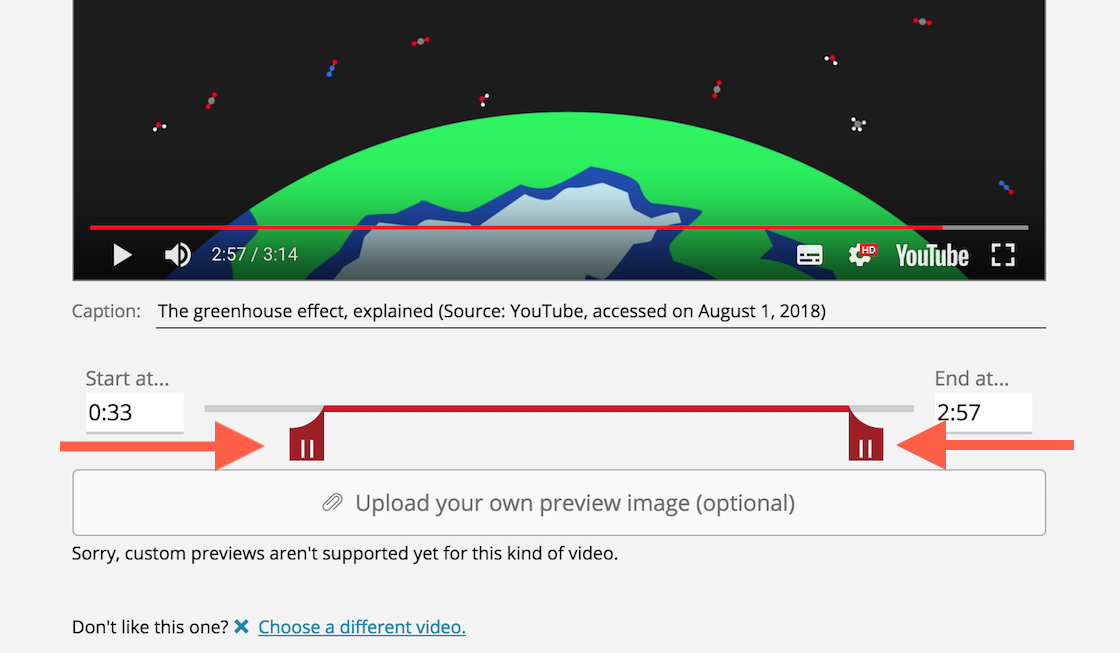 Below the video is a red line with handles. Drag the handles right and left to omit the beginning and end. The video can be played above while the trim is adjusted - this can help get the exact second at which to begin and end.
(Optional) Add a preview image and a caption
A preview image appears before a student clicks to watch the video. If no custom preview image is uploaded to accompany an uploaded video, then a still frame from the video will be automatically selected as the preview.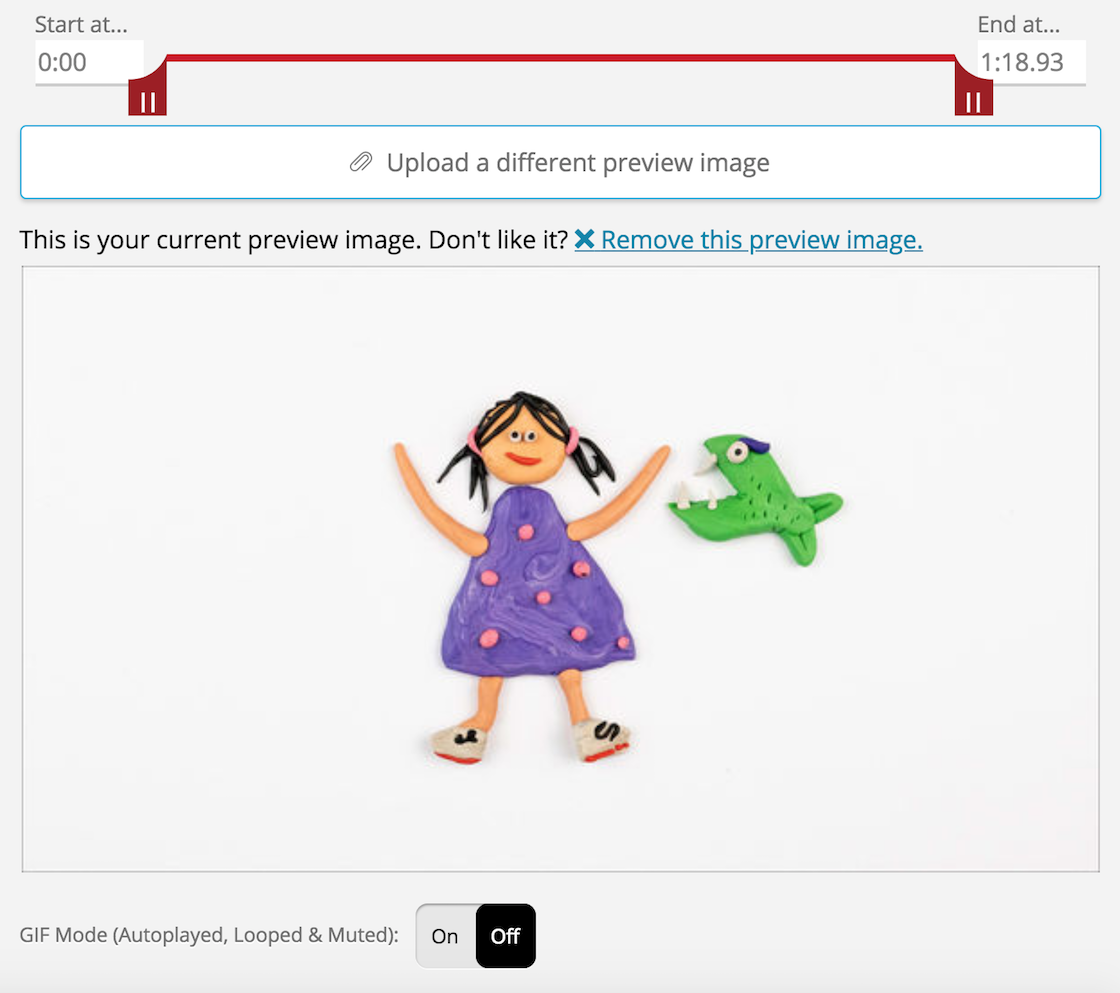 The preview image should be of similar dimensions to the uploaded video, e.g. 1280px x 720px, and it must be an image file such as .jpeg or .png.
Note: Custom preview images are only supported on uploaded videos. Embedded videos from YouTube and Vimeo include preview images selected by the uploader.
A caption is optional and can provide more context to the video. This is especially helpful for students using accessibility tools who may not be able to view the video. If the video is embedded from the Web, then the caption will automatically be filled with the video title, source, and date accessed. The caption can be found directly below the video window.
Save changes
Click Done to save the video along with its customisations.