Teaching notes can be found in multiple areas of Stile, providing useful links and information which teachers can reference at any time.
Teaching notes are found in the Folder overview of a Subject, as well as within Prepare mode of Lessons. They are always hidden from students, however, can be viewed and edited by any co-teachers of the Subject.
This article will cover:
Teaching notes in Folder overview
The Teaching note box within each folder is a great place to describe the folder's contents on a more in-depth level than what the students need. It is located below the Folder's Lessons, marked with a grey background.
Because it is hidden from students, teachers can use this space to discuss teaching strategies, link to extra resources, and include other helpful tips such as when the folder's contents were last updated or modified. This is especially useful when sharing resources with colleagues.
Click on the folder's Edit button and then click into the Teaching notes box. Rich text tools will appear above the box to assist in formatting and styling the text (adding colours, links, emphasis, etc).
Note: The text formatting toolbox in the Teaching notes widget is identical to the Text widget. Click here to learn how to use all of the tools available.
In the above example, the Stile content team has used the Teaching notes to include:
Prerequisite recommendations;
A link to the unit highlights video;
Links describing various curriculum fulfillments;
Links to model answer PDFs;
The unit's version number.
Teaching notes in Lessons
In Prepare mode of a Lesson, the Add content button to the right of the screen gives an option to add a Teaching note visible only to teachers.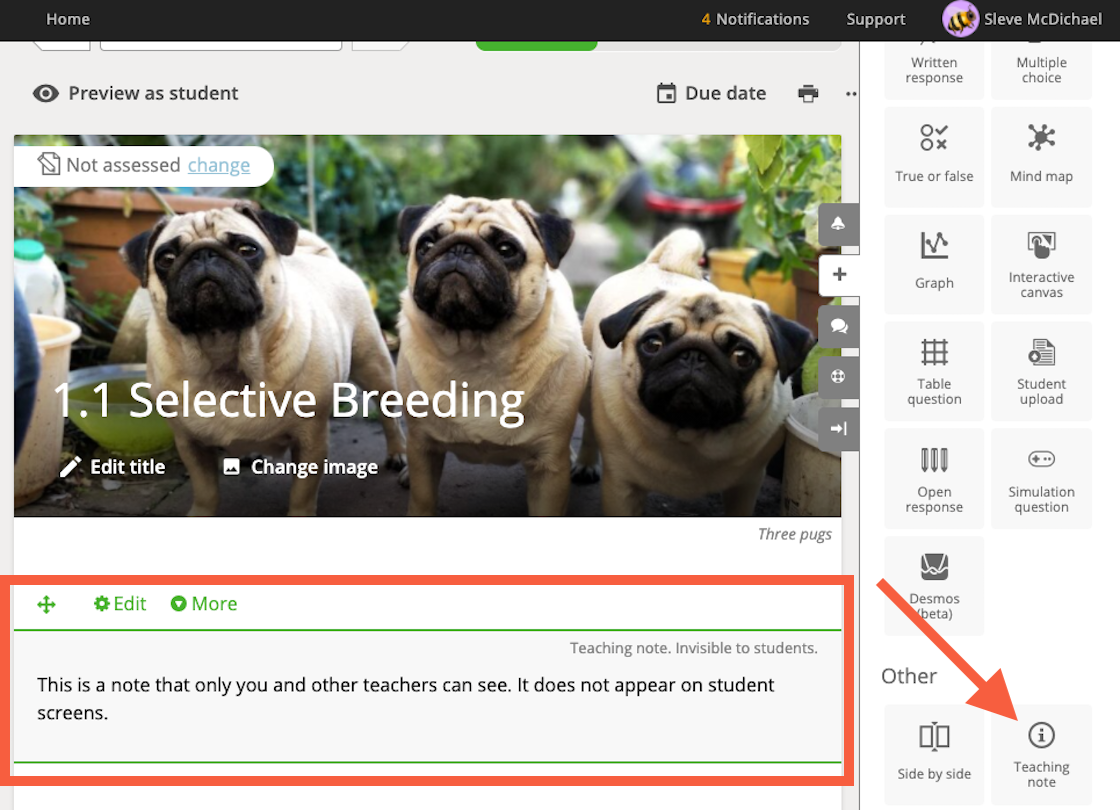 Teaching notes can be used in multiple ways to enhance a Lesson, including:
Providing extra guidance when leading an activity;
Making notes for co-teachers or colleagues when sharing the Lesson;
Adding external links to resources, model answers, or additional information.

Notes are highlighted with a green outline and a grey background to differentiate them from the rest of the Lesson. They disappear completely in Student view.
Protip: To see exactly what the student sees, click the Preview as student button at the top left of your page while in Prepare mode.
---
You may also be interested in the following resources: