There are five key steps to get started.
Log in at stileapp.com
Create a subject
Add lessons to the subject from the Stile Science library
Release lessons for students to see
Enrol students
Watch this quick video or read on to learn more.
1. Log in
Teachers and students always log in via stileapp.com once their account is created, or through the school's single sign-on system.
Teachers must be invited to join by their school's Stile admin - usually a Head of Science or a teacher in a similar role. The invitation will arrive via email with an unique, one-time-use link to create an account. If the school admin is unknown, then contact Stile's Support team for more help.
---
2. Create a subject
Resources and students are organised in subjects. Use subjects to:
Add and edit lesson content
Enrol students and sort them into classes
Keep track of student progress via the subject's Markbook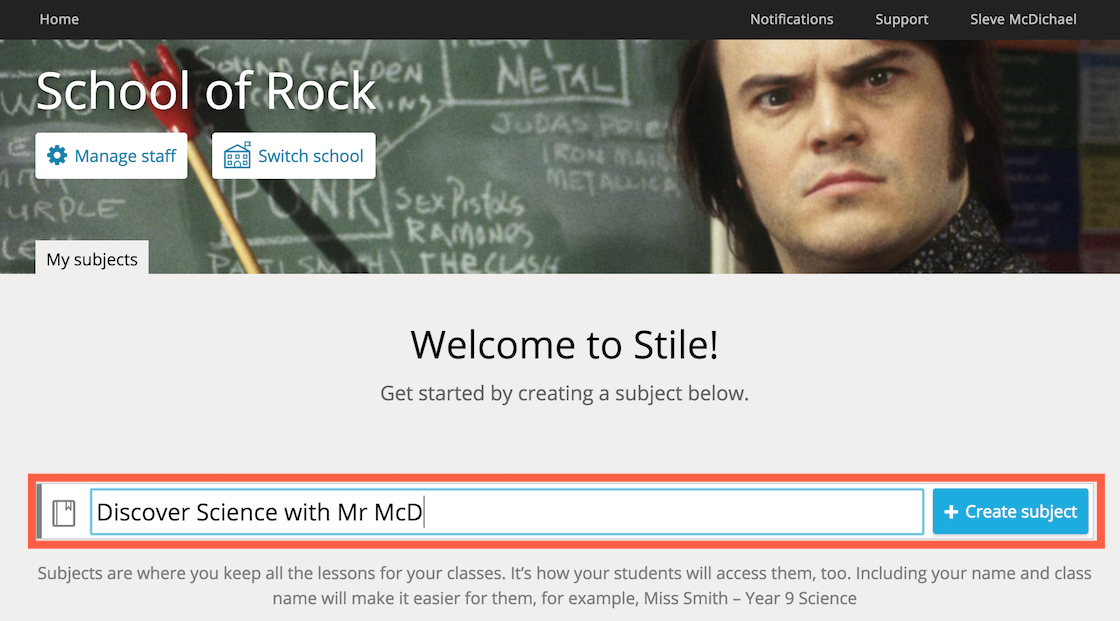 On the home page, type a descriptive subject name in the text box marked with a grey book and click Create subject. Commonly used naming schemes include the topic (e.g. "science" or "STEM") and the teacher's name. This can help students who are in multiple subjects with different teachers.

The new subject will appear on the home page, now marked with a green book. Click on the subject to enter it.
---
3. Add lesson content to your subject
The Lessons page within the subject offers a greeting, and options to Browse the Lesson Library or Create new lesson.
Click on Browse the Lesson Library and then select Years 5-6 Science Lessons from the library menu that appears.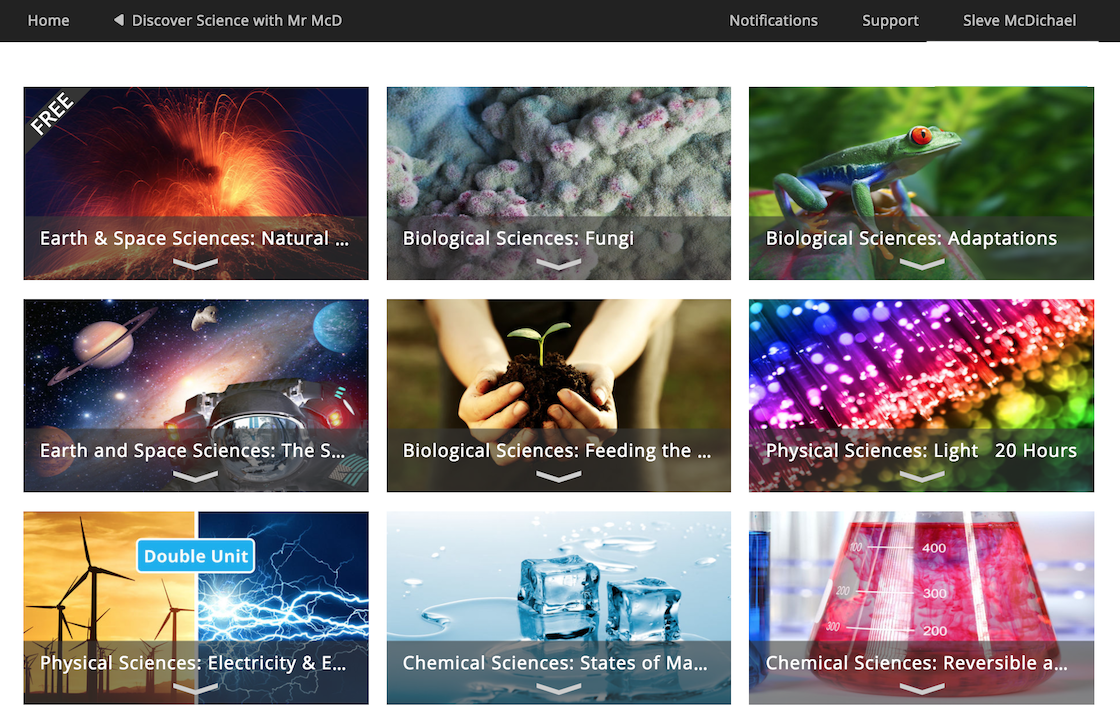 Stile Science lessons come bundled in collections called Units, which cover a range of year levels and science topics. Click on a unit to read more about it, including its overview, lesson previews, and how it fits into the curriculum.
Select Add Unit and follow the prompts to add it to your subject. A copy of the unit will appear in the subject's Lessons page.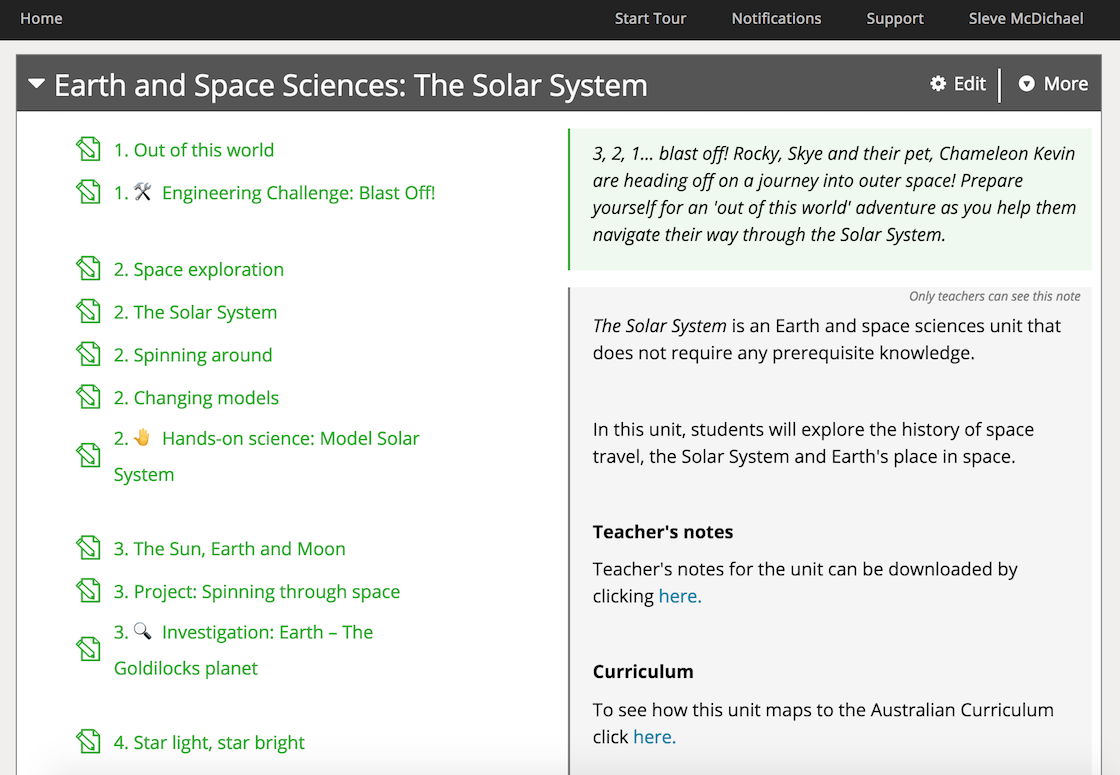 Units are organised into folders, marked with dark grey headers.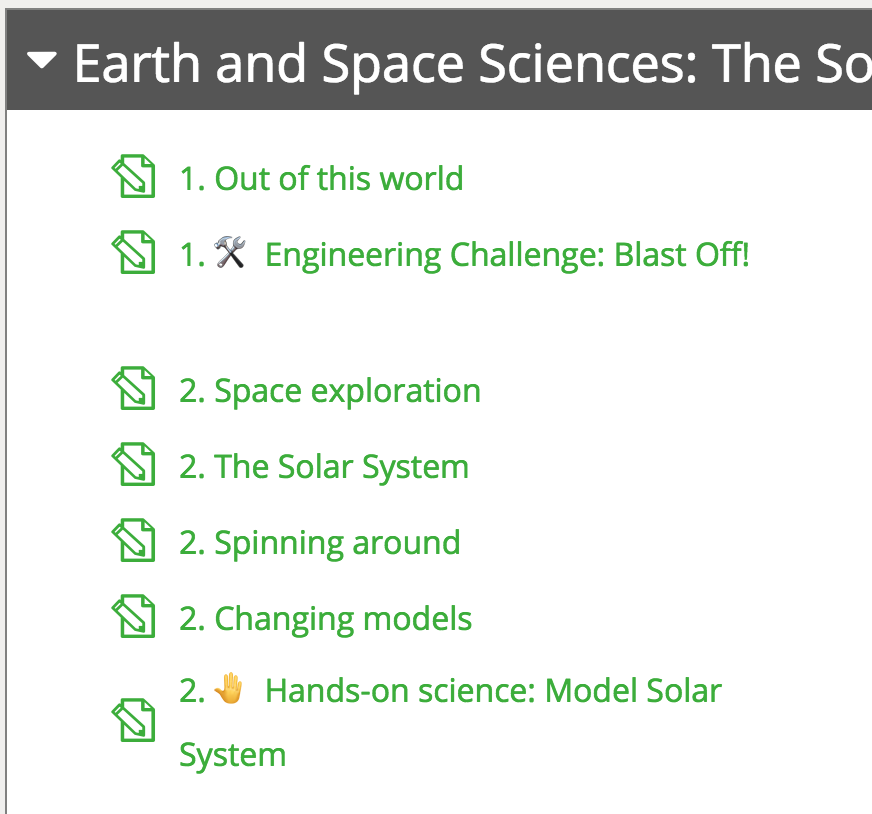 The left side of the folder contains the lessons, which carry the resources and activities for your students. Numbered lessons group visibly into sections.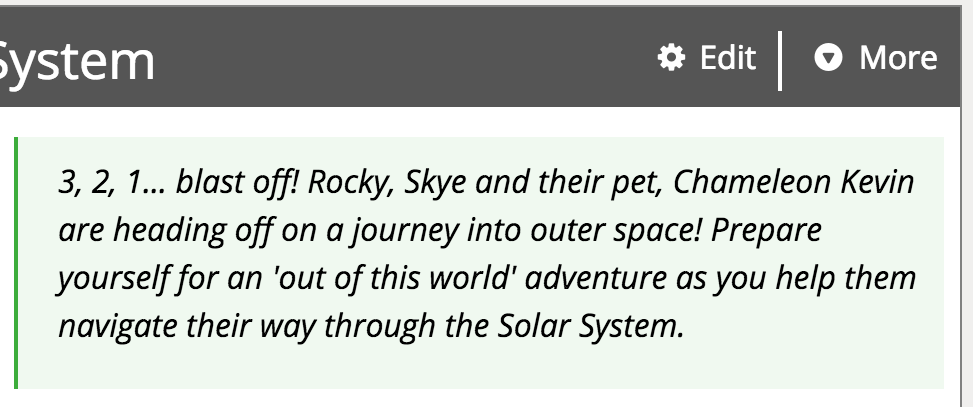 The right side of the folder contains notes for the students and the teachers. The pale green box at the top of the right column is visible to students and provides a brief overview of what the unit is about.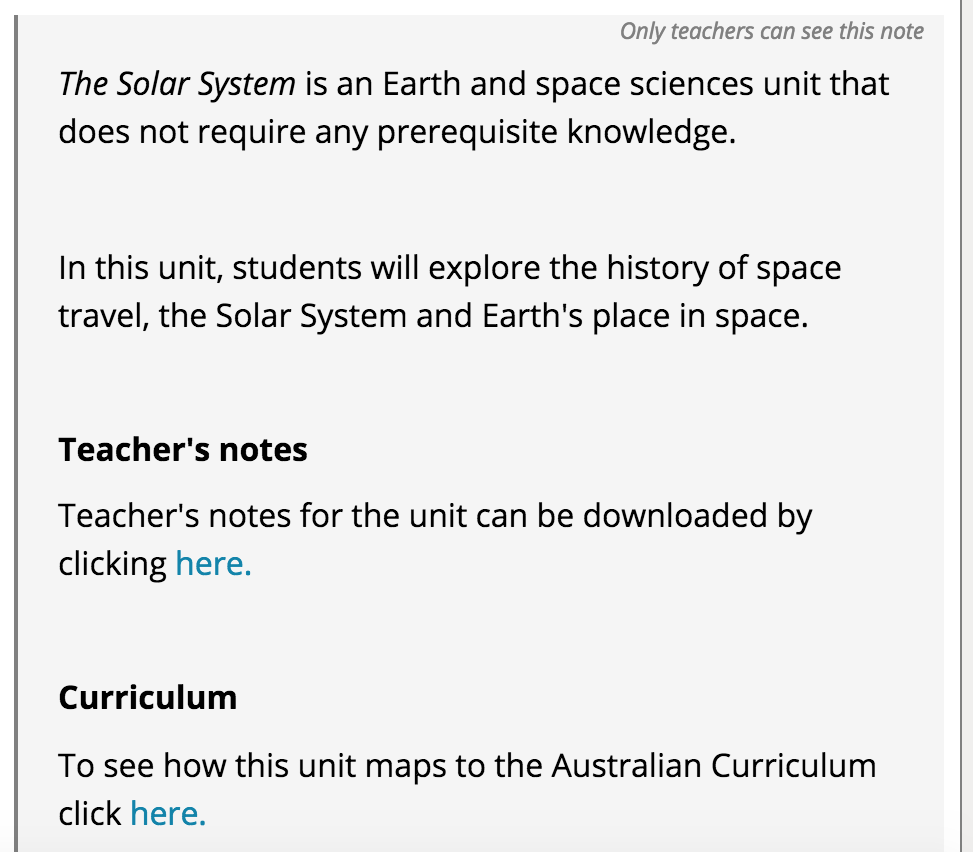 The light grey box in the right column contains teaching notes - these are hidden from students and can provide teachers with extra information and model answers. Read through the Model answer PDFs to quickly see the learning goals and what the students will take away from each lesson. 
4. Release lessons
By default, all lessons in a folder are visible to students (released) when the unit is copied into the subject. The grey line labeled 'Students' controls which lessons will be visible and which lessons will remain hidden from students.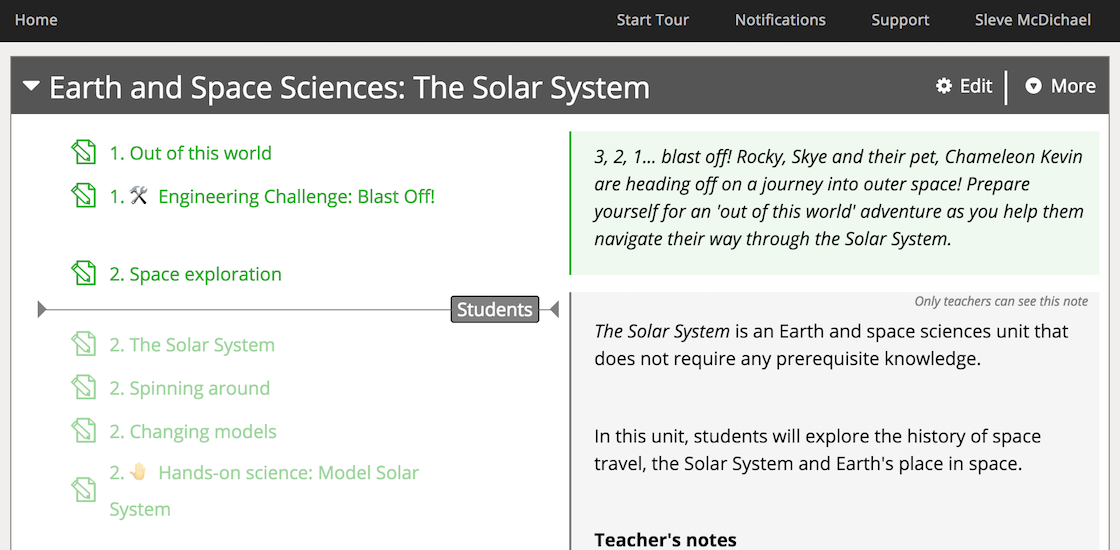 Everything above the grey 'Students' line is visible to students, while everything below it is not. To release a lesson, drag the 'Students' label on the grey line below the lesson you want to release.
In the example above, everything below lesson 2. Space Exploration is hidden from students, and so the lesson titles appear faded to the teacher. Everything before lesson 2. The Solar System is released to students.
This feature can be especially useful when keeping future activities hidden or focusing students on a single lesson or group of lessons.
---
5. Enrol students
Invite students to join the subject so they can participate. Go to the Students page in the subject's green header to reveal student enrolment instructions. This can be done at the start of the first class period. Once a student is enrolled in a subject, they will not need to join again.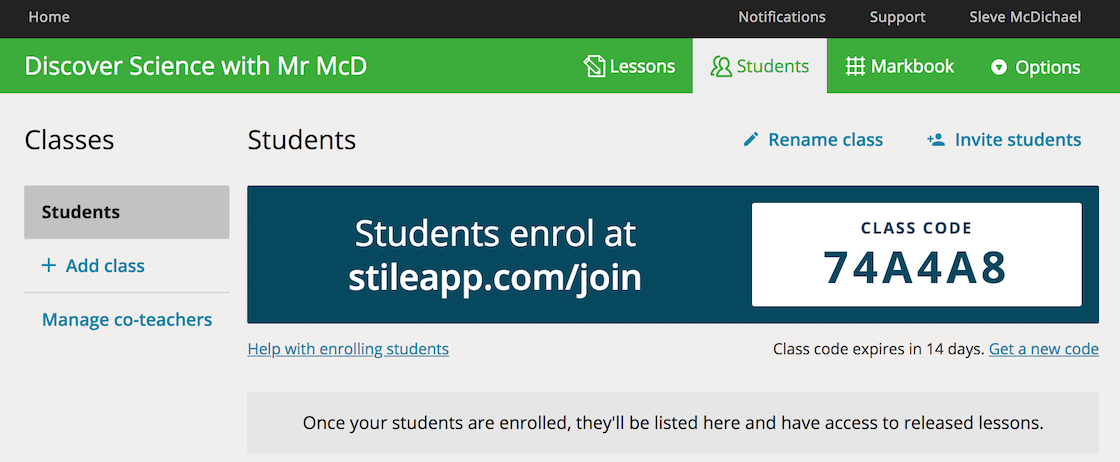 Take a look at this example. The invite code is unique to this specific class, within Mr. McD's Discover Science subject. When students navigate to stileapp.com/join in their browsers and enter that unique invite code, they will be prompted to either complete their account set up or log in to an existing account.

They only need to complete this process once per subject. After their first day they will no longer need an invite code to access Discover Science with Mr McD. All they will need to do is log back in at stileapp.com.
Note: If a student does not have an email address to use when creating a Stile account, they can use a dummy email. Read more here. 
Once students are enrolled, teachers can track their progress and leave feedback via the Stile Markbook.