Give another teacher access to your Lessons and Markbook via the Manage Co-teachers page.
When you invite someone to co-teach in your Stile Subject, you are giving them all the same access and abilities in that Subject as you have including adding students, hiding and releasing Lessons, editing content, and marking student work. Adding a co-teacher can be helpful if a relief teacher is taking over for you for a time, if a lab technician needs access to an upcoming activity and its notes, or if you work collaboratively with another teacher on a regular basis.
Note: Stile admins can manage co-teachers in any active Subject at the school via the Manage staff page. If you are a school admin, learn how to manage co-teachers and add yourself to subjects here.
Watch the video to learn how, or keep reading below:
Add your co-teachers via the Students page
Teachers must be invited to join a Subject, even if they already have Stile accounts tied to the school.

Click into the Subject you want the teacher to join, and then click on the Students button in the Subject's header between the Lessons and Markbook buttons. Next, click Manage co-teachers. This can be found in the left column of the page below the + Add class button.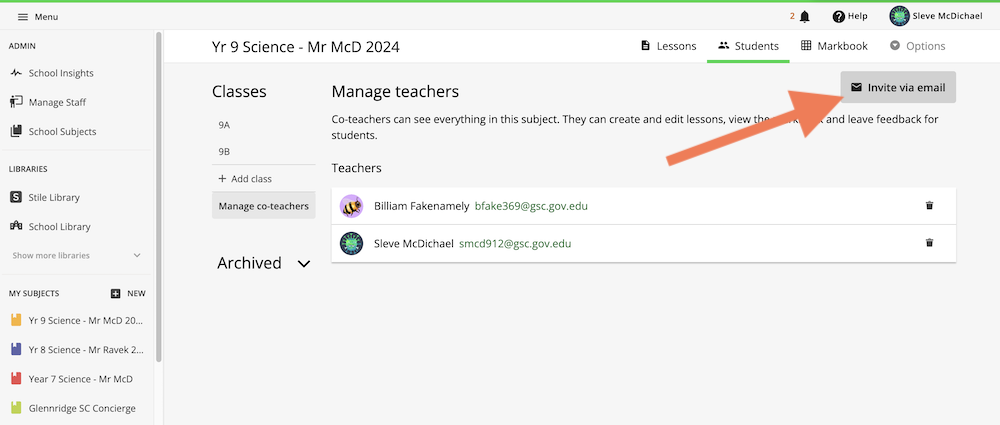 Select the Invite via email option in the top right area of the screen and type the new teacher's email address into the window that appears. Ensure the email address is correct and then click Send invitation email. An automated email will be sent to the address inviting them to join the Subject along with a unique, one-time-use link.

The invitation will show as pending until the teacher joins your Subject via the invite email.
Once they join the Subject, their name and email address will appear on the Manage co-teachers page below yours and they will have full access to the Subject's Lessons, students, and Markbook.
---
These resources might be helpful for what you want to do next: