Got some lessons released and shared them with your students?
Great! Now you can see what everyone is up to from the Markbook.
You can get to the Markbook by navigating to your Subject page (see screenshot below).
Click on 'Markbook' which can be found along your green Subject bar.  
Your Markbook
The Markbook provides a visual breakdown of your class's progress:
The snapshot of the Markbook above tells me quite a bit about my class' progress: 
For Jenny, Activity 1 and Volcanoes in Australia (an assessment) have been marked, but not 'Volcano types', which she submitted late (red). The padlock means that that she can't take back the work.
Simone has only looked at the two assessments (Volcanoes in Australia and Volcano types), but she's handed in the other two, one of which has been marked (Activity 1). Because the last lesson isn't an assessment, she can take it and keep working on it (no padlock).
Peter was absent for Activity 1 and needs to resubmit 'Volcanoes in Australia'
Bob is already onto Activity 3
Daniel hasn't done much at all! He's only looked at Activity 1.
Sam is the same as Daniel, but at least she handed in her work (and it's been marked)
Kim's work has been collected (that's why it's locked, which means she can no longer take it back and work on it).
Hover over the symbols to see more info (including an exact timestamp of when they submitted their work).
All these symbols are clickable - click on any of them to see what your students are up to to get a snapshot of their current work, as well as a nice timeline at the top that tells you more about the life of the work over time:
This even lets you view previous versions of their work. To find out more about how and when students can take back their work, see this article.
Real-time analytics
The Markbook also gives you access to real-time analytics of your class via 'Class insights':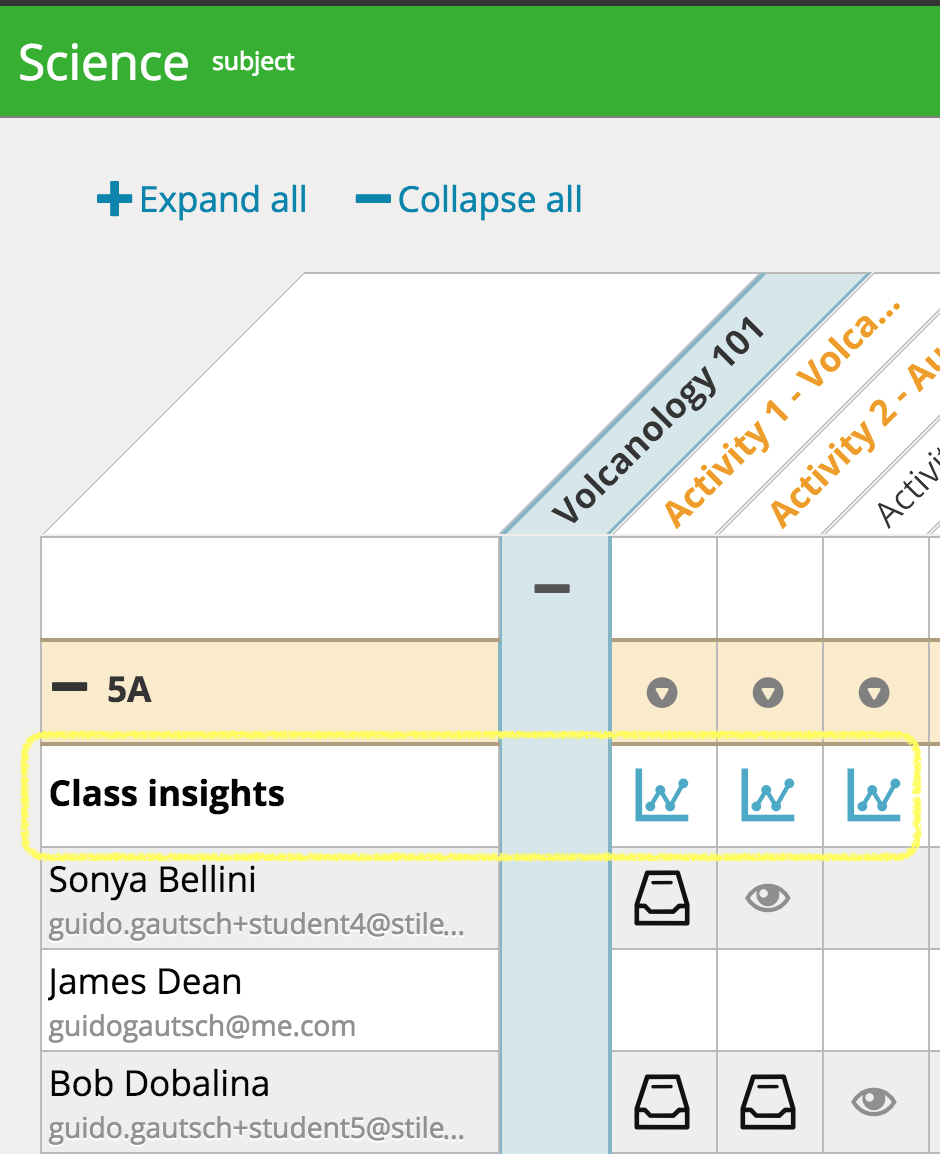 Each lesson has its own analytics page. See this article for more info.
Notifications
Every time your students submit work, you're notified.
Clicking on an individual student submission notification will take you directly to their work.
Clicking on a notification for multiple submissions will take you to the Markbook.
See how you can provide your students with feedback